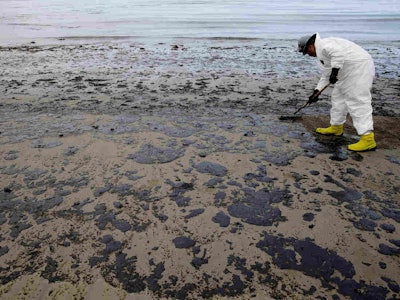 On Monday, a California grand jury indicted a Texas oil pipeline company on 46 charges related to a massive 2015 oil spill along the Pacific Coast.

California Attorney General Kamala Harris and Santa Barbara County District Attorney Joyce Dudley announced the charges Tuesday, including four felony counts and 42 misdemeanor counts against Houston-based Plains All-American Pipeline.
James Buchanan, a Plains employee, was also indicted on three misdemeanor counts.

The felonies were related to the spill of hazardous materials into state waterways, while the misdemeanor charges includes the spill's impact on local wildlife and failure to notify state officials in a timely manner.
The charges came nearly one year to the day that a Plains-operated pipeline ruptured and leaked more than 140,000 gallons of crude oil in one of California's worst spills in years.
 
Authorities earlier this year blamed corrosion in the pipeline, which gave way under higher pressure during a re-start of the system. A federal investigation also found that the pipeline wasn't shut down for 30 minutes after the leak triggered an alarm.

"The carelessness of Plains All-American harmed hundreds of species and marine life off Refugio Beach," Harris said in a statement. "This conduct is criminal and today's charges serve as a powerful reminder of the consequences that flow from jeopardizing the well-being of our ecosystems and public health."

Plains could face up to $2.8 million in fines along with additional costs and penalties.

The company responded that it was disappointed in the decision to pursue the charges and defended its work with local stakeholders in the aftermath of the spill.
"We will vigorously defend ourselves against these charges and are confident we will demonstrate that the charges have no merit and represent an inappropriate attempt to criminalize an unfortunate accident," Plains said in a statement.