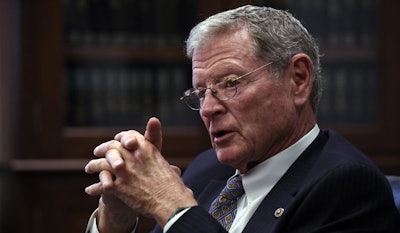 Democrats have again blocked a Republican proposal that would have forced the Obama administration to withdraw a federal rule to protect small streams and wetlands from development and pollution.
An amendment sponsored by North Dakota Sen. John Hoeven did not get the 60 votes needed to stop the provocative rule.
Thursday's vote was the latest effort by Republicans to check the water rule, which they call an example of President Barack Obama's overreach. Most Democrats support the Environmental Protection Agency rule, saying it will safeguard drinking water for 117 million Americans.
The Senate has voted multiple times in the last year on GOP measures to thwart the rule, which has been put on hold as federal judges review a series of lawsuits by states and groups representing farmers and other businesses.
Republicans and some Democrats representing rural areas say the water regulation is costly, confusing and amounts to a government power grab, giving federal regulators unprecedented control of small bodies of water on private land.
The clean water rule, sometimes called the Waters of the U.S. rule, clarifies which smaller waterways fall under federal protection after two Supreme Court rulings left the reach of the Clean Water Act uncertain.
The government should be doing everything it can to help farmers and ranchers, but instead is "stifling growth with burdensome regulations that generate cost and uncertainty," Hoeven said.
GOP efforts to thwart the rule have moved forward when a simple majority was required, but failed when 60 votes were needed. Fifty-six senators, including four Democrats, supported Hoeven's amendment on Thursday.