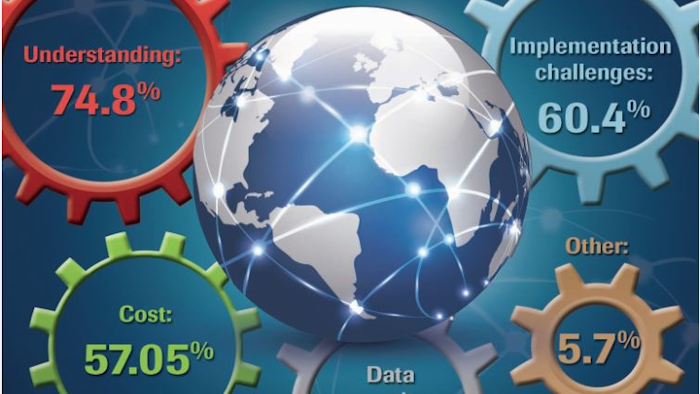 Since it began gathering momentum, the IoT movement has demonstrated potential to transform how many industries do business. GE states, "The world is on the threshold of a new era of innovation and change with the rise of the Industrial Internet." Based on Manufacturing.net's research, the manufacturing sector's general attitude toward this "new era of innovation" is excited, yet hesitant.  
The Industrial IoT is revolutionizing the manufacturing industry in several ways. Aidan Quilligan, head of Accenture's Industrial Software Solutions Practice, stated, "Manufacturers will see a combination of efficiency gains, worker safety and productivity together with the possibilities of new revenue streams as organizations adopt elements of the Industrial Internet of Things." One specific example of these efficiency gains can be found in increased tracking abilities throughout the supply chain.
Mark Bunds, a Manufacturing.net reader who participated in our survey and serves as the Automation Systems Developer at Master Rig International says, "The most exciting aspects of IoT will be the opportunity to track manufactured equipment in service throughout our facility using smart tag devices that can provide far greater functionality than RFID (radio-frequency identification), bar codes or NFC (near-field communication)."
This ability to easily track and view data related to equipment performance, inventory levels, order status, material locations, part availabilities, etc. means that decisions ranging from maintenance to scheduling could be more efficiently established throughout the enterprise. This would be coupled with an understanding of how each impacts operations, distribution, purchasing and many other areas of the company.
Staying with this single example, the real-life application of such IoT benefits could be applied to events like a recall. By automating the inventory controls, manufacturers can audit and track the finished product, as well as all of its parts in identifying the source of the problem — saving time and money in addressing the proper deficiency. This allows manufacturers to pinpoint product involved in the recall more quickly.
Such benefits are apparent both within the workforce and throughout the manufacturing enterprise. The increased level of automation accompanying IoT will provide workers with more information in making better decisions that impact functions beyond just their singular area of responsibility.
Additionally, the increased use of technology, particularly mobile technology, could help attract more and younger workers with advanced skill sets to pursue manufacturing careers. A major benefit of IoT's increased automation and digitization is its potential to draw for younger talented workers who are more comfortable using interfaces on smartphones or tablets.
Survey participants were well aware of the advantages of implementing IoT technologies. One question asked, "Which of the following are significant benefits of integrating IoT technologies?" The results suggest that manufacturers still primarily view IoT as a tool to improve data usage. Top responses were "Greater access to data" and "Increased operational efficiency" at 77.7 percent and 71.3 percent respectively. Less-popular responses included "Better remote management capabilities" at 54.7 percent and "Quicker responses to market changes" at 36.3 percent.
These answers suggest that manufacturers understand how IoT can improve operations on the plant floor but are not yet seeing the far-reaching benefits. For all of the promising possibilities of the IIoT, many manufacturers are reluctant to invest in implementation. As we'll get into later in this series, this plays a key role in developing approaches to data security.
Due to IoT's relatively new appearance in the industry, manufacturers have yet to see precisely how IoT can benefit their bottom line. This feeling of uncertainty about what IoT has to offer echoes sentiments expressed in Manufacturing.net's reader survey.
We asked readers, "What obstacles are preventing more manufacturers from implementing IoT technologies?" By far, the No. 1 response was "Understanding" at 74.8 percent. "Implementation challenges" at 60.4 percent and "Cost" at 57.1 percent were other popular responses, while "Data security, at 52.4 percent, was the least popular answer, despite being one of the most frequently discussed obstacles amongst IoT experts.
The low security responses suggest that readers were not as conscious of the importance of mitigating security risks in relation to other implementation hurdles. Therein lies perhaps the most troubling dynamic of IoT security: It's not being addressed during initial conversations, and it does not become a priority until all the connections and data-sharing begin.
Additionally, the results of our reader survey seem to indicate that many manufacturers are not fully aware of the security risks associated with IoT developments. Those who are concerned face challenges in determining how to approach such solutions in an effective manner due to a number of common misconceptions.
Check in tomorrow for Industrial IoT: Data Security.