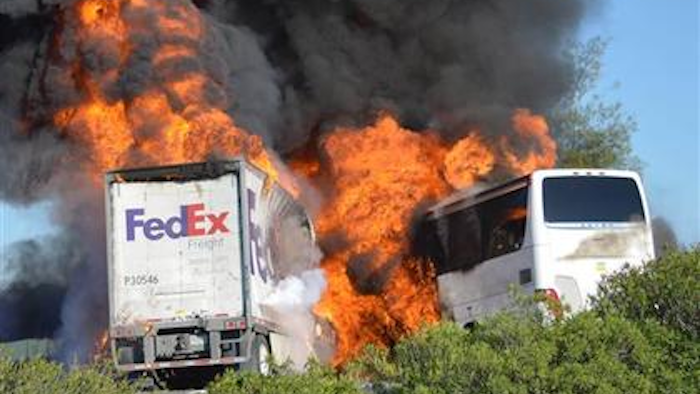 LOS ANGELES (AP) -- The family of a Los Angeles student who was among 10 people killed when a FedEx truck collided with a charter bus in Northern California is suing the shipping company.
A wrongful-death lawsuit to be filed Tuesday lays blame for the April 10 crash on the FedEx truck, its manufacturer, Volvo, and its driver, who was among those killed, the Los Angeles Times reported (http://lat.ms/1gLw06Q ). The charter bus company, Silverado Stages, is also named in the lawsuit.
The lawsuit is on behalf of Ismael Jimenez, 18, an aspiring artist. He and other teenagers were heading north for a free tour of Humboldt State University when the bus was struck head-on by the FedEx truck.
Dozens escaped through windows before the bus exploded into towering flames. But five students, three adult chaperones and both drivers died.
The California Highway Patrol has not determined the cause of the crash in Orland, 100 miles north of Sacramento.
Before the crash, the FedEx driver signaled to change into the left lane and began to merge, the lawsuit alleges. But the freight hauler never straightened out and instead continued east across a 58-foot stretch of median and into oncoming traffic.
Jimenez's family is seeking unspecified damages, his attorney, Paul Kiesel, told the Times.
The newspaper said the lawsuit is just the latest in what is expected to become a slew of litigation against the bus company and FedEx.
A student injured in the crash filed a lawsuit earlier this month, and in April the mother of a student who died filed a lawsuit seeking $100 million.
Representatives for FedEx and Silverado Stages each said the companies do not comment on litigation.