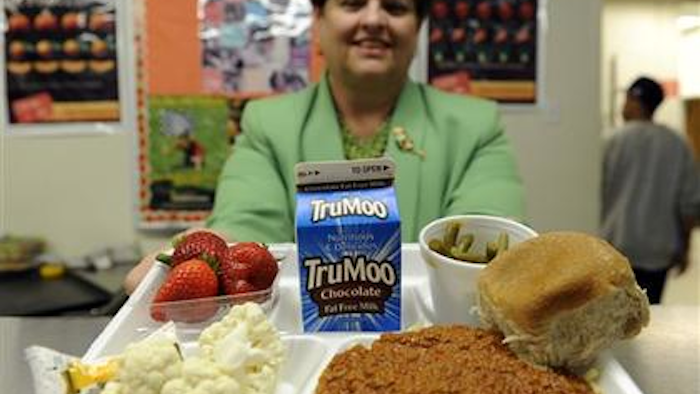 WASHINGTON (AP) -- The Agriculture Department will allow some schools to delay adding more whole-grain foods to meals this year, responding to criticism from school nutrition officials and Congress that the standards were too difficult to put in place.
The delay comes hours after a Republican-led House spending panel criticized the Obama administration's healthier school-lunch standards and proposed letting some schools opt out of them entirely.
USDA said schools can put off for two years a requirement that all grain products in schools be whole-grain rich, or more than half whole grain, if they can demonstrate that they have had "significant challenges" in preparing those products. Many schools have complained that the whole-grain pastas don't hold together well when cooked.
"Schools raised legitimate concerns that acceptable whole-grain rich pasta products were not available," said Kevin Concannon, USDA undersecretary for food, nutrition and consumer services. "We worked to find a solution which will allow more time for industry to develop products that will work for schools."
While many students have adapted easily to whole grain breads and rolls, which have been on the market for some time, school nutrition directors say they are having a harder time with pastas, biscuits, tortillas and grits — all popular items on the lunch line. The current requirement is that 50 percent of all grain products be whole-grain rich.
The GOP spending bill for agriculture and food programs was released Monday and would allow schools to apply for waivers if they had a net loss on school food programs for a six month period. A House Appropriations subcommittee approved the bill Tuesday morning.
Championed by first lady Michelle Obama, the new standards have been phased in over the last two school years, with more changes coming in 2014. In addition to whole grain standards, the rules set fat, calorie, sugar and sodium limits on foods in the lunch line and beyond.
While many schools have had success putting the rules in place, others have said they are too restrictive and costly.
Rep. Robert Aderholt, the Alabama Republican who is chairman of House Agriculture's spending subcommittee, said the school lunch rules have "upset the economics of the school meals program by driving the cost of the plate up while pushing participation down."
In his statement, USDA's Concannon criticized Republicans for going after the standards.
"With one third of American children fighting obesity, we cannot accept politically motivated efforts to undermine standards and deny kids healthier options," he said.
This is not the first time USDA has tweaked the standards. In 2012, just a few months after they went into effect, the department scrapped maximums on proteins and grains after students complained they were hungry.
The first lady had a call to rally supporters of the healthier food rules Monday. A Senate subcommittee considered its version of the food and farm spending bill Tuesday afternoon but did not propose any changes to school meal programs.