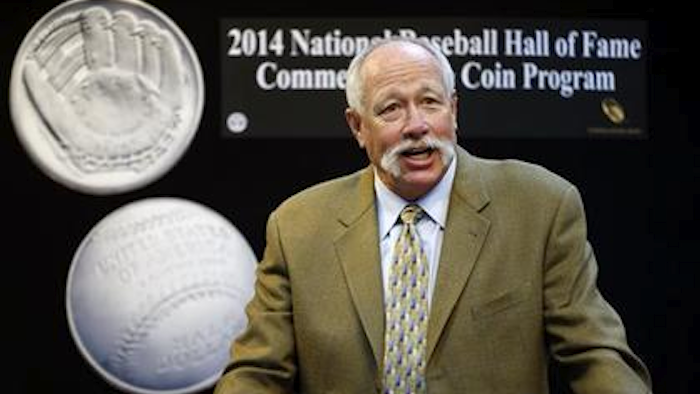 DENVER (AP) -- Goose Gossage was known for bringing the heat.
This time, it was all about the curve.
The Hall of Fame pitcher visited the Denver Mint on Tuesday to strike an uncirculated clad coin for the National Baseball Hall of Fame Commemorative Coin Program.
The bowl-shaped currency is the result of a 2012 law ordering the U.S. Treasury to manufacture the coin to commemorate the Hall of Fame, which is celebrating its 75th anniversary this year.
The glove-and-ball design is the creation of 28-year-old Cassie McFarland, an artist and photographer in San Luis Obispo, California.
The baseball is depicted on the convex side, complementing its round shape, and the glove is shown on the coin's concave side, complementing its cupped shape.
All 50,000 gold $5 coins, which sold for more than $425 each, sold out in less than 24 hours. The 400,000 silver $1 coins sold out in less than two weeks, a spokesman for the Denver Mint said.
There are 750,000 half-dollar clad coins that are selling for $22.95 (uncirculated) or $23.95 (mint). The mint ones are being struck at the San Francisco Mint, and the uncirculated ones at the Denver Mint.
"It's very cool to be a part of this and being from Colorado, it's another amazing thing I get to be a part of," Gossage said after pushing a button that sent dozens of coins falling down a conveyer belt at the Denver Mint.
Gossage grew up in Colorado Springs and spent 22 years in the major leagues with nine teams. He was elected into the Hall of Fame in 2008.