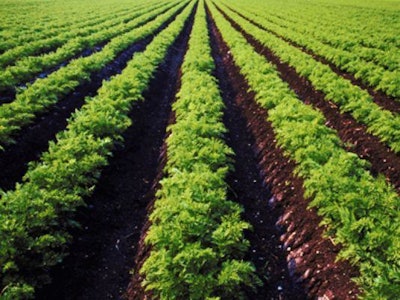 California farmers who spray a widely used insecticide on some of the state's most abundant crops may soon have to overcome the nation's steepest restrictions or find another pest killer, officials said Thursday.
Regulators are proposing heavy restrictions — but not an all-out ban — on chlorpyrifos, used to treat crops like grapes and almonds. The pesticide, in use since 1965, has sickened dozens of farmworkers in recent years. Traces have been found in waterways, threatening fish, and regulators say overuse could make targeted insects immune to the pesticide.
"We've come up with a clear idea of when it's really needed and what are the alternatives," said Brian Leahy, director of the California Department of Pesticide Regulation. "We want to preserve this tool for when you really need it."
But he expects pushback from across California's agricultural industry, which leads the nation in production.
Joel Nelson, president of the California Citrus Mutual, said that because somebody misused the pesticide, everybody shouldn't be punished with restrictions. Nelson said regulators in Sacramento want to apply a "broad-brush approach," which isn't right. Alternatives pesticides exist, but he said they're not as effective and are more expensive.
"What's a producer to do, let his cotton production be destroyed by a pest, or should they spray it?" Nelson said.
The pesticide is sprayed on 60 different crops, which also include alfalfa, walnuts, oranges and cotton. Up to 2 million pounds each year are sprayed in California.
The U.S. Environmental Protection Agency in 2012 enacted restrictions on chlorpyrifos, placing buffers around sensitive sites, like schools.
That wasn't enough for California officials, who say the history of companies not following the rules requires a proactive stance. No deaths have been reported, but the state cites 136 people reporting exposure to the pesticide between 2001 and 2011.
Symptoms include difficulty breathing, coughing, itchy eyes, nausea, lightheadedness, disorientation and headache.
In 2007, officials say 26 vineyard workers in Tulare County were exposed to chlorpyrifos being sprayed in a neighboring almond orchard. The firm that applied the pesticide was fined $28,600.
In 2008, 13 field workers in Monterey County clearing rocks were exposed. Seven became ill, and the company that applied the pesticide was fined $3,120. And in 2009, six landfill workers in Kern County got sick from spraying at a nearby orange grove, resulting in a $12,000 fine, state officials said.
The proposed requirements call for trained, licensed professionals to obtain a permit from their county's agricultural commissioner, who can add requirements based on the location, date of spraying and wind conditions. Those applying it must have a recommendation from the state's Department of Pesticide Regulation.
California's proposal would extend restrictions to all agricultural products containing chlorpyrifos, which federal officials said would make it the nation's most restrictive.
Even so, Veena Singla, a staff scientist for the National Resources Defense Council, said that California's proposal falls far short.
"It's sort of a baby step they took, when they need to take a big leap forward," she said.
The NRDC was among a coalition of environmental health groups that filed a federal lawsuit earlier this month against the U.S Environmental Protection Agency, seeking a national ban on chlorpyrifos. The advocacy groups say the pesticide interferes with brain development of fetuses, infants and children.
"It's really inadequate to protect California's families and environment," Singla said.
The public 45 has days from Friday to comment on the proposed restrictions, which could go into effect early 2015.