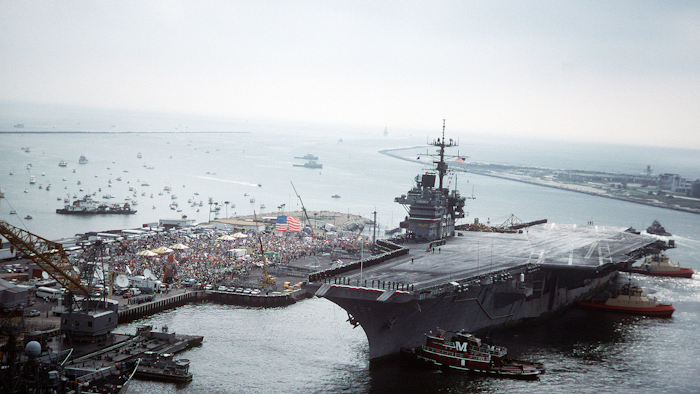 The Saratoga — named for the decisive battle of the American Revolution fought in upstate New York — was commissioned in 1956 and completed 22 deployments before it was decommissioned in 1994. It was off the coast of Cuba during the Cuban Missile Crisis, off of Vietnam during the Vietnam War and in the Persian Gulf during the first Iraq War. It arrived in Newport in 1998 and fell into disrepair.
Read: USS Saratoga Carrier Heads to Scrap Yard
The Saratoga in Hampton Roads, Virginia, during the International Naval Review of 1957.
The Saratoga in the 1980s.
The Saratoga returning from Desert Storm.
Returning from final deployment in 1994.
Ranks of enlisted Saratoga crew members file off the ship for the last time at the end of the decommissioning ceremony.
Last week the Saratoga was towed to be scrapped in Brownsville, Texas. Tugs arrived at the station at 5:30 a.m. Thursday and the lines that had held the carrier to the pier for 16 years were cut. The carrier passed in the midmorning under Newport's Claiborne Pell Bridge and by Fort Adams, where people had gathered to watch it go.