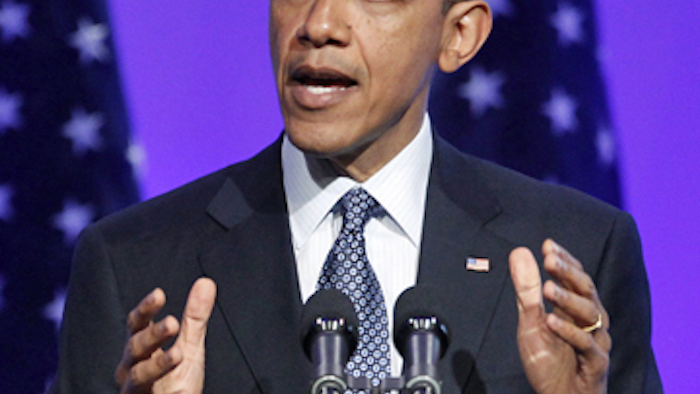 President Barack Obama, responding to unprecedented data breaches and cyberattacks, is trying to spark alliances between policymakers who want to regulate the online world and tech innovators who traditionally shun federal government bureaucracies.
In California's Silicon Valley on Friday, Obama was slated to participate in a White House summit on cybersecurity and consumer protection, joining hundreds of administration officials, tech and other CEOs, law enforcement officials and consumer and privacy advocates. The focus is on encouraging every player to do better at sharing information that can help the private sector prevent and respond to costly and potentially crippling threats to the security of their online networks.
Obama was delivering the keynote address at the daylong event, as well as leading a round-table discussion with a group of business leaders.
J.J. Thompson, CEO and managing director of Rook Security, a consulting firm founded in San Jose, California, said the symbolic significance of the gathering could not be overstated, despite its "dog and pony show" aspects. The summit is being held at Stanford University, a hub of tech innovation.
Jeff Zients, a top economic adviser to Obama, said a goal of the summit is to drive home the message that strong cybersecurity can provide companies with a competitive edge.
"Cybersecurity is not a problem for just one or two sectors of the economy," he told reporters. "All industry sectors and types of businesses face cybersecurity risks."
Numerous companies, ranging from mass retailers like Target and Home Depot to Sony Pictures Entertainment to health insurer Anthem, have suffered costly and embarrassing data breaches in recent months. The Twitter feed of U.S. Central Command, which oversees military operations in the volatile Middle East, was hacked recently, while the White House reported detecting "activity of concern" last October on the unclassified computer network used by White House staffers.
The Obama administration wants Congress to supersede an existing patchwork of state laws by setting a national standard for when companies must notify consumers that their personal information has been compromised.