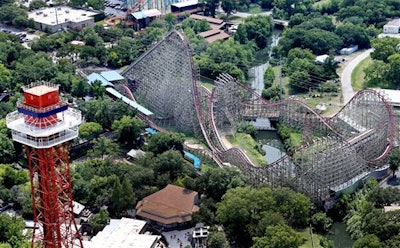 ARLINGTON, Texas (AP) -- A German roller coaster maker is sending officials to a North Texas amusement park to inspect a ride after a woman fell to her death.
Tobias Lindnar, a project manager for Gerstlauer Amusement Rides in Munsterhausen, Germany, told The Dallas Morning News that the company will investigate what led to Friday's fatal accident at Six Flags Over Texas in Arlington.
Witnesses said the woman expressed concern about the Texas Giant roller coaster's safety bar not completely engaging as the ride was starting. The coaster is touted as the tallest steel-hybrid roller coaster in the world.
"I'm sure there's no safety bar that is broken," Lindnar told the newspaper by phone Saturday night from Germany.
Lindnar said Gerstlauer has never had problems with car safety bars on any of the roughly 50 roller coasters it's built around the world over the past 30 years.
"We will be on site and we will see what has happened," he said.
Park spokeswoman Sharon Parker confirmed in a statement Saturday that the victim died while riding the 14-story Texas Giant, but wouldn't give specifics about what happened. Arlington Police Sgt. Christopher Cook told The Associated Press on Saturday that police believe the woman fell from the ride and that there appeared to have been no foul play.
Arlington police have referred information about the woman's identity to the medical examiner's office in Tarrant County, which hadn't disclosed her name as of Sunday night and didn't respond to phone messages left by the AP.
Lindnar wouldn't address the hydraulic bar's operation or whether park employees should be able to determine if a person's body is too close to the front of the train car to prevent the bar from being effective.
"At this time I don't want to speak about the technicals," he said. "It's not so easy. It's some special equipment."
But he said once the ride began, there was no chance of opening the safety bar.
"We are committed to determining the cause of this tragic accident and will utilize every resource throughout this process," Parker said in her statement. "It would be a disservice to the family to speculate regarding what transpired."
Police, fire and emergency medical services responded to the park around 6:45 p.m. Friday after calls about a woman who fell from a car while riding a roller coaster. She was pronounced dead at the scene.
Texas Department of Insurance spokesman Jerry Hagins told the AP on Sunday that Six Flags was in compliance with state regulations requiring amusement ride operators to have $1 million liability insurance on each ride and provide proof of an annual safety inspection by a certified engineer.
Six Flags received a state-issued sticker, like an auto inspection sticker, for the Texas Giant in February. Hagins said the ride now will remain closed until it's inspected again and certified to be safe.
"It's the ride owner's responsibility to keep it closed, to fix it, then prove to us that it's safe to start back up again," he said. "If for some reason they can't figure it out, no safety inspector is going to sign off on it."
Because no foul play is suspected, police are not involved in the investigation, officials said.
The ride first opened in 1990 as an all-wooden coaster and underwent a $10 million renovation to install steel-hybrid rails and reopened in 2011. It can carry up to 24 people.