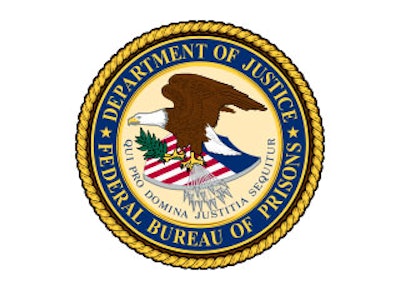 TALLAHASSEE, Fla. (AP) — More than 160 current and former employees and family members are suing the federal prison agency over ailments they blame on exposure to toxins at an electronics recycling facility at a penitentiary in the Florida Panhandle.
Many are suffering from sores, joint pain, memory loss and internal bleeding as well as thyroid, reproductive and breathing problems, according to the lawsuits.
They attribute those and other ailments to such toxins as lead, cadmium and beryllium that filled the air and covered their clothing in the form of a pollen-like dust at Marianna Federal Correctional Institution's e-waste recycling facility.
"They never gave us any protection for handling this contaminated material," said Freda Cobb, a medically retired former guard and cook supervisor. "We felt they used us as their guinea pigs."
The Federal Bureau of Prisons in 1994 began using low-paid inmate labor to recycle computers and other electronic gear to extract gold and other valuable materials at Marianna, about 60 miles west of Tallahassee. Three years later, the bureau began expanding the program to other facilities in New Jersey, Kansas, California, Pennsylvania, Arizona, Texas and Ohio.
Cobb, 51, was recuperating at home Wednesday after being hospitalized for several days last week suffering from thyroid problems, high blood pressure, and liver disease. Over the years she's also had skin sores, memory loss and migraines. Her uterus was removed when it tripled in size. Her husband and children also have had various ailments.
Two lawsuits filed in U.S. District Court at Panama City last month allege the bureau and UNICOR, the trade name for Federal Prison Industries, "willfully, recklessly, and/or negligently" operated the recycling facility in a way that caused the plaintiffs to be exposed to toxic dust.
That included at one time the prisoners' use of hammers to break glass computer screens and television picture tubes containing toxic materials.
"When I came out at the end of the day, I looked like a coal miner," said Delbert McKinney, who retired as a correctional officer last year. "I'd have it on my nostrils. I'd blow it out of my nose. It would be on my clothing."
McKinney, 57, said he suffers from internal bleeding, chronic obstructive pulmonary disease, skin and brain lesions, nausea, headaches and dizziness. His wife had thyroid problems after washing his contaminated clothing and their son developed rashes, he said.
The bureau had not filed a response as of Wednesday. A spokesman for the bureau in Washington, D.C., was unaware of the lawsuits and had no immediate comment.
The lawsuits, one for 82 current and former employees and the other for 83 family members, were filed after the government rejected their administrative claims.
Katherine Viker, one of three Tallahassee lawyers representing the plaintiffs, said the bureau contended current and former employees cannot sue because they are covered by workers compensation for job-related injuries.
That argument, though, does not apply to their families and also shouldn't apply to the employees because negligence negates the workers compensation exception to their right to sue, Viker said.
"We absolutely know that they knew they were poisoning these people," she said.
That includes current and former inmates. They aren't included in the lawsuits because federal law imposes stricter legal requirements on prisoners, the lawyers say. They first must go through a multistep grievance process and the law limits lawyer fees and awards.
The suits are seeking unspecified compensatory damages for "physical injury, medical bills, genetic damage, depression, lost wages and loss of the capacity for the enjoyment of life."
This is a third attempt at legal action.
A federal judge in 2009 dismissed a suit filed by employees and inmates seeking a declaratory judgment, injunction and the release of documents on dangers and safety risks of recycling.
A second suit sought to have the recycling facility declared a nuisance under Florida environmental law. It, too, was dismissed. The U.S. 11th Circuit Court of Appeal rejected an appeal last year, ruling a state law couldn't be used to close down a federal facility, Viker said.
The Department of Justice's Office of Inspector General issued an investigative report in October 2010. It concluded e-waste recycling programs at Marianna and other prisons failed to safeguard staff and inmate safety. Investigators found instances of misconduct, dereliction of duty and dishonesty including potential criminal violations.
The report though noted other federal regulatory agencies between 2007 and 2009 found exposures to cadmium and lead were below limits set by the Occupational Safety and Health Administration. Prior to 2003, UNICOR lacked adequate worker protection and violated numerous OSHA regulations, the report said.
The lawsuits contend UNICOR still fails to follow the most minimal of safety precautions "to date despite the government's knowledge of the dangers."
McKinney said a doctor told him he couldn't pinpoint the cause of his internal bleeding and that operating would do no good because the scar tissue would kill him.
"I figure my days are numbered," he said. "I don't care if I don't get a dime."
McKinney, though, said he wants justice from a government he believes just doesn't care.
"They just left us hung out to dry," he said. "We're another Agent Orange. ... It destroyed me and my family. It destroyed my career."