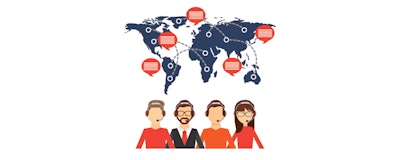 Founded in the midst of the first Industrial Revolution 180 years ago, Schneider Electric initially focused on the steel and machine industry. In 1891, the company entered the nascent electricity market and over the next 100 years specialized in selling products for energy management, electrical distribution and building automation.
Today, Schneider Electric is becoming a services company. The France-based firm generates 40 percent percent of its revenues by selling a suite of value-added services to its clients alongside its products, spanning from energy efficiency solutions to strategic energy sourcing, to industrial cybersecurity. That's up from 10 percent in 2009.
Schneider is not alone in focusing on services. Seventy-four percent of manufacturers expect data driven-services will be their primary revenue source within 10 years, according to the Salesforce Research "Customer Service in Manufacturing" report.
This represents a sea change in manufacturing, driven by advances in cloud, social, mobile, internet of things (IoT) and artificial intelligence (AI) technologies. By 2020, there will be 40 billion IoT-connected devices in the world sending trillions of signals daily into the cloud, according to Gartner. Yet, behind every one of those products, sensors and signals is a customer.
Manufacturers today know far more about their customers — and how they use their products — than ever before. The smarter ones are using that data to drive meaningful value and competitive edge by moving from providing services to predictive services.
For example, connected sensors on Schneider Electric's power distribution components transmit data on product usage and status. That data highlights when components need servicing and allows the company to preemptively replace them, avoiding expensive periods of downtime for customers. Those sensors can also identify inefficiencies across a plant, giving valuable suggestions on how clients can better run their operations.
"For a company like us, it's a revolution. We used to do just energy distribution. Now we are speaking about saving and sharing energy. We are tackling the efficiency of buildings. We are bringing predictive maintenance capabilities so that our customers don't have to suffer problems." - Jean-Pascal Tricoire, CEO and Chairman, Schneider Electric
There's a similar revolution underway at General Electric, where the aviation division's jet engines now come equipped with smart sensors that allow the company to track important aircraft data throughout a flight. The company pairs that flight data with navigation and weather information to help clients cut fuel consumption, reducing an operating expense that makes up about 30 percent of an airline's costs.
Yet, the scope and scale of the services revolution in manufacturing is not limited to B2B companies. In the consumer goods space, data enables manufacturers to add service offerings to products. Dutch giant Philips is connecting an ever-increasing number of its consumer products to the cloud with smart IoT sensors. The data generated means researchers can design products that more effectively meet customer needs, and over time add services offerings that lead to a longer, deeper relationship with customers.
An interesting example: Philips introduced a "smart toothbrush" that tracks how you're brushing your teeth. The company then uses that data to give advice on brushing technique, provide progress reports and remind you to replace your toothbrush head.
"We've already connected lamps, air purifiers, coffee machines, toothbrushes and more...In the past, we built products that were self-contained, but now these products become plug-ins for digital solutions" - Jeroen Tas, CEO Informatics Solutions and Services, Philips Healthcare
Providing a Service? Focus on the Customer
Regardless of the company, product type or customer, there's one common truth: In moving from selling products to providing services, manufacturers are using data to build a more direct relationship with customers. This is not a technological challenge — adding connected sensors to products is a well-trodden path — but rather an organizational one. The real issue is shifting the mindset of an entire business from focusing on making products to connecting with customers.
In this the age of the customer, the new currency for success is creating a deeper, more high-fidelity relationship with each customer.
It's a challenging time to make the switch, but there is no going back to the days when the key focus was plant efficiency and driving down costs. In industries as varied as travel, finance and healthcare, disruptive new market entrants are offering alternatives to incumbents that provide a more personalized, cheaper and responsive customer experience.
For example, Lyft and Uber offer customers the same underlying service as a taxi cab, but often with a shorter wait time and lower fares. They have no fleet upkeep or driver overhead. At Warby Parker, customers pick from a tailored selection of glasses online, try them on and purchase the pair they want — all without leaving home, and for a fraction of the price. Transferwise allows customers to transfer money from one country to another from their phones, with none of the fees levied by traditional banks.
In this new world of personalization, connectivity and speed, customer experience becomes the key differentiator for every industry, especially manufacturers. According to Salesforce's "State of the Connected Customer" research report, 65 percent of business buyers say they're likely to switch brands if their company is not treated like a unique organization. And 82 percent of business buyers say technology has made it easier than ever to take their business elsewhere.
For the manufacturing industry, it's not good enough to simply add sensors to products. Companies must start with customers — and the data they generate — and use it to change business processes, organizational structures and corporate strategy.
Manufacturing leaders' questions must shift from "In what market does our cost-to-produce give us competitive advantage?" to "Where does the data we generate add unique value for customers?" Business metrics must change. Rather than focusing solely on throughput and utilization, manufacturers must incorporate metrics to measure the depth and quality of customer relationships. Customer satisfaction, churn rate and monthly recurring revenue will all help to ensure all departments — customer facing or not — align around the customer.
For manufacturers today, building services to complement product offerings is table stakes. By harnessing the power of IoT and intelligent data to focus on customer outcomes — and delivering unique value as a result — manufacturers can truly thrive in the age of the customer.
Cindy Bolt is Senior Vice President of Manufacturing, Energy and Consumer Goods at Salesforce.