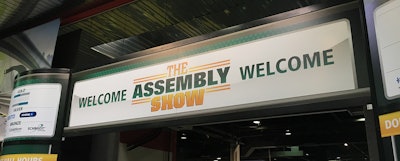 *IMPO's Editor's Pick series involves one of our IMPO editors unsolicitedly discussing their favorite exhibitor booth/s, educational session/s or other takeaways from a recent industry event.
On Oct. 25-26, I attended The Assembly Show in Rosemont, IL — 17 miles northwest of downtown Chicago. It was my first time at the event. A week earlier, I was at the International Fastener Expo (IFE) in Las Vegas, primarily on behalf of Industrial Distribution magazine. While a great show itself, and in a fun city, IFE was exclusively fasteners. Booth after booth of fastener distributors, suppliers and service providers. The expo floor was lots of the same, which was expected, but nevertheless monotonous.
Because of this, Assembly was an excellent change of scenery. The expo floor was full of suppliers of industrial robots, automation technology, material handling solutions, tooling and MRO products, among others.
Here my Editor's Pick from Assembly Show:
BoxLatch
Yes, Box Latches. There's nothing exciting about them, but in my expo floor wandering, BoxLatch's simple booth made me do a double-take and compelled me to stop by for a chat. The company's name is self-explanatory — it makes plastic latches for cardboard boxes. But its mission is far-reaching. By eliminating the need for box tape — which essentially ruins a box after one use — box latches enable industrial companies to re-use boxes many times. This creates a chain reaction of benefits: no tape needed, which means no box cutters needed, which means increased safety and product protection. And overall, this means less boxes are needed, which saves on their costs and is better for the environment.
Box latches attach to the top or bottom of a cardboard box. For larger boxes, multiple latches can be used. The Pewaukee, WI-based company has several variations of the product, which allow users to pick the best one for them.
I think what surprised me most was that BoxLatch's booth was the first time I had seen such a product. Being such a simple solution, I was suddenly hit by the question of, 'how aren't these already everywhere?' While it may not make sense to use box latches when sending products, using them whenever you use a flapped-box for internal use makes lots of sense. Especially in industrial facilities, where factories, distribution centers, maintenance buildings require lots of MRO-type products, box latches would significantly cut down on a number of total boxes used.
At the booth, I had a good talk with company co-founder James Wilson, BoxLatch's CEO. He said the company had only started exhibiting at trade shows this year. Assembly was its third event, following ProMat in April and Pack Expo in September. He showed me and discussed how BoxLatch already has multiple customer case studies showing how using box latches saved clients tens of thousands of dollars in packaging costs.
Also, the company's Assembly booth was constructed completely out of cardboard boxes, fastened together with box latches. Somehow I overlooked that until Wilson pointed it out to me.
All of BoxLatch's products are engineered and produced in Wisconsin. James and his brother Jack founded the company in 2010. After a lengthy process of trial-and-error and many patent applications, BoxLatch's first success came after an inquiry from the Logistics Division of Toyota Parts Centre in Belgium. That spurred further interest and helped lead the company to grow to where it is today.
All in all, if you're company/facility goes through lots of boxes and packaging tape and values sustainability, BoxLatch is a company well worth an inquiry. Check out their website to learn much more.
Check out this new video from the company that gives a brief overview of all the benefits of using box latches.