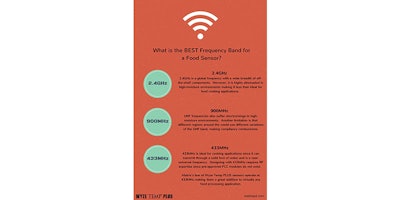 Three commonly used frequency bands in wireless technology are 2.4GHz, 860 to 950MHz, and 433 MHz. The merits and shortcomings of each make deciding which band to use in your industrial application an important one.
2.4 GHz waves are used by microwave ovens to heat water specifically because of water's ability to efficiently absorb RF energy in this frequency. This means that in an industrial cook application where moisture levels are high that this band will be strongly attenuated. This leads to limitations in transmit distance and signal fidelity. Despite this, 2.4GHz is still utilized because there are FCC approved radios that can be used to quickly implement a design without the extra effort to certify a new radio.
860 to 950 MHz (the UHF band) suffers from the same shortcomings as 2.4GHz. It is readily attenuated by water limiting transmit distance and data integrity. One must also consider that in the UHF range, different regions have different standard frequencies. For example, USA uses 915MHz, Europe uses 868 MHz, and Asia uses 950MHz. Like the 2.4GHz band, some FCC pre-approved radios exist that speed development time while also avoiding the FCC certification process.
Unlike the UHF band or the 2.4GHz band, a 433 MHz signal is not strongly attenuated by water. In fact, a 433MHz radio can transmit through a foot of liquid water without issue. It is also able to better operate in a metal filled environment (such as an oven full of meat racks) because of its long wavelength. 433MHz is approved as a standard band in most countries allowing a single design to be utilized globally. In the USA, 60 feet of transmit distance can be expected, while in Europe where the power limit on 433MHz is more relaxed it is possible to get transmit distances in the range of miles. This band is underutilized because there is no pre-approved FCC radio that would allow a quick design cycle. A 433 MHz design therefore requires expert knowledge to design a custom radio.
In summary, the lower frequency 433MHz band is the ideal wireless band for devices used in industrial-style cooking applications. Despite the many advantages offered by 433MHz, it is an atypical design choice because of the time, difficulty, and expertise that are required to implement it.