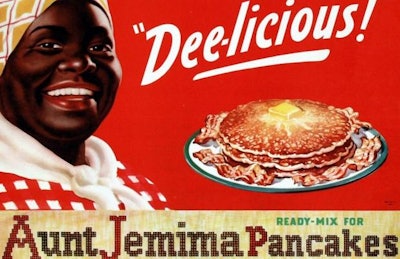 Anna Short Harrington became the face of Aunt Jemima in 1935. Quaker Oats, which owns the brand, used her likeness for the Aunt Jemima logo, while her recipes were also used for product offerings. Now, 59 years after her death, two of her great-grandsons are suing Quaker Oats and its parent company, PespsiCo, for exploiting Harrington and not paying royalties to her estate.
A report by Fortune indicates that the suit, which also names Pinnacle Foods and its former suitor Hillshire Brands as defendants, accuses the companies of failing to pay Harrington and her heirs an "equitable fair share of royalties" from the pancake mix and syrup brand that uses her likeness and recipes. According to the lawsuit, Quaker Oats took control of "64 of [Harrington's] recipes and 22 complete menus" and marketed them to the public.
D.W. Hunter and Larnell Evans, the great-grandsons of Harrington, filed the class action lawsuit on behalf of all of her great grandchildren, and are seeking $2 billion, plus punitive damages to be determined at trial. The Chicago Tribune reports that Hunter alleges that the companies conspired to deny that Harrington had been an employee of Quaker Oats, all the while exploiting her image and recipes for profit and refusing to pay royalties to her heirs for more than 60 years. The filing also alleges Quaker Oats committed industrial espionage by deceiving Harrington and wrongfully taking her pancake recipes.
According to Fortune:
Hunter's lawsuit accuses the companies of lying to cover up Quaker Oats' employment of Harrington, adding that the heirs determined they were owed royalties when they say they discovered last October that the company had trademarked the image of their great-grandmother with the U.S. Patent and Trademark Office in 1937 and after they found a death certificate for Harrington that named the company as her employer. Hunter has accused the companies of breach of contract, conspiracy, and fraud, among other charges.
The lawsuit further alleges that Harrington was dissuaded from using a lawyer at the time, exploiting her lack of education and age, so that the company did not have to pay her a percentage of sales from her recipes.
While Harrington's recipes are still held by Quaker Oats, her image is no longer used. In 1989, Quaker Oats sought out Harrington's youngest daughter Olivia Hunter, and used her likeness to update the look of Aunt Jemima. This updated image is the representation of the character today.
What do you think? Do you think Harrington's family has a case? Is the lawsuit baseless? Is this a wake-up call to companies with long-standing brands to make sure everything is square with their IP? Let us know what you think by leaving your comments below.