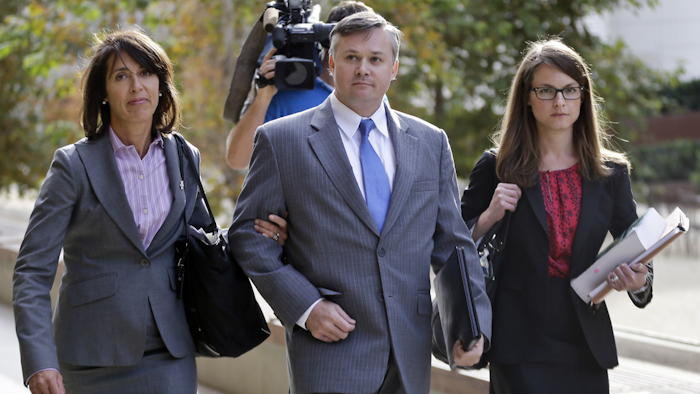 A former contractor for the Navy's Military Sealift Command pleaded guilty Tuesday to accepting bribes from two companies who were seeking government contracts.
Federal prosecutors say Stafford resident Scott Miserendino and former Military Sealift Command civil servant Kenny Toy conspired to accept more than $265,000 in bribes over five years. Prosecutors say they took the bribes from two Chesapeake companies to help steer about $5.4 million in government contracts their way.
The companies held contracts to provide information technology and communications services and support to Military Sealift Command. The Washington, D.C.-based command is the primary provider of ocean transportation for the Navy and the rest of the Defense Department. It operates about 110 ships around the world.
Prosecutors said Miserendino worked closely with Toy to manage the command's telecommunications projects by writing statements of work, preparing and executing budgets, reviewing proposals, and influencing the awarding of federal contracts, subcontracts and task orders. Court records said Miserendino and Toy received bribes from 2004 to 2009.
Miserendino, 55, was charged with acceptance of a bribe by a public official and a conspiracy to commit bribery of a public official. He was also originally charged with obstructing a criminal investigation. Prosecutors said in court documents that Miserendino conspired to pay off a co-founder at both companies who had previously bribed him not to report him to Navy authorities.
In total, Dwayne A. Hardman, 44, admitted in court documents that he received about $85,000 from Miserendino and his co-conspirators not to report the illegal activities. Those charges were dropped as part of his plea agreement.
Several others connected with the scheme have already pleaded guilty to related charges.
Miserendino is set to be sentenced Nov. 7. He faces a maximum sentence of 15 years in prison for accepting a bribe and a maximum sentence of five years in prison on the conspiracy charge.