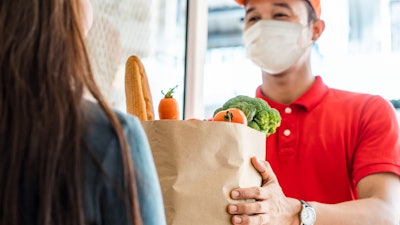 iStock
Food Manufacturers have a lot of decisions to make when it comes to offering their product to their customers. In the past half a decade or so, we've seen an incredible surge of direct-to-customer methods of food delivery and consumption. It's not too difficult to see why that's the case either. Why bother aimlessly searching a wholesaler or local grocer for the ingredients you need when you can have those same ingredients delivered straight to your kitchen? Still, there are undeniable benefits of making the effort of hopping in your car and heading out to the store to pick up the essentials.
The DTC Future Is Now
The argument can be made for both sides, but let's unpack the pros and cons of each. Food manufacturers have taken notice of the trend, and more and more direct-to-consumer or DTC meal prep companies keep sprouting up hoping to cash in. Blue Apron, Hello Fresh, etc. They all are counting on the trend to continue uninterrupted. There is just something appealing about the prospect of not having to hassle with a grocery list, making sure you have every single ingredient needed to make that perfect eggplant parmesan. Instead, the perfect ingredients and portions are delivered in a conveniently packaged kit right to your front door, fresh and ready to prepare. During the height of the COVID-19 pandemic, these services soared in popularity, with people electing to stay at home and avoid the panicked environment of the local wholesale or supermarket. When a perfect family dinner can be purchased and prepared without having to rummage through the produce or meat & poultry aisle, success is almost a guarantee. There is something to be said for mail-delivered food consumption, and food manufacturers, processors, distributors, and traders are doing most of the talking.
Running to the Market

Sure, DTC food manufacturing may be on the rise, but that doesn't mean a large majority of the American public doesn't still rely on making the extra effort of heading to the nearest wholesaler or supermarket to get the items they need. After all, people are still very much tethered to value. The value of these manufactured food items is still paramount. This is where wholesale clubs and supermarkets have the edge. Especially at wholesalers like Costco, Sam's Club, or BJ's, you can buy necessary food items in bulk at a fraction of the cost of having them delivered. Also, let's not forget the fees attached to DTC food delivery services, which tend to be hefty. Larger families ultimately consider wholesalers and supermarkets to be the best viable option for the savings involved. It's because of this that food manufacturers will always need to keep at least one foot in the brick-and-mortar establishments. Food manufacturing will always need to keep their eyes and ears out for the new trends as they take shape, but one thing will always remain constant, and that's value.
It's evident that both methods of food consumption are necessary depending on the individual consumer's needs. For that reason, food manufacturers will need to remain persistent yet flexible. It's certain that DTC services will remain on an incline, especially with COVID-19 and subsequent variants on the rise. However, this is not to say that people won't still be getting in their cars and making the extra effort of heading to the local wholesale market to get the food products they need for every day life.