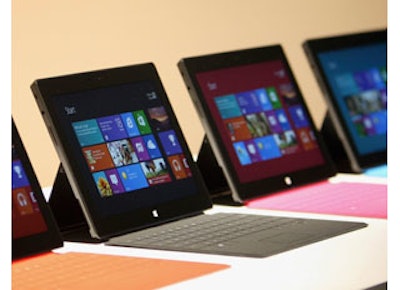 Although it's not difficult to find prominent industry leaders willing to tout all the positive elements the manufacturing industry represents, there is the risk of "preaching to the choir" in relaying this information to a manufacturing-centric audience. However, there's also a significant level of cache and validation of these messages when they come from a prominent position within an iconic company.
This was the case when speaking with Melissa Cook, Microsoft's Senior Director of Dynamics in the manufacturing industry. With a primary focus on the ERP offerings within Microsoft's Dynamics platform, she holds a unique perspective not only on software, IT and manufacturing, but how they all fit together in solving industry problems and pushing the manufacturing sector forward collectively.
In this first of a series of 5 Quick Questions, Cook offers her thoughts on the future of manufacturing systems.  
Jeff Reinke: What do you see as Microsoft's role in the manufacturing industry?
Melissa Cook: The fundamental DNA of our business is to unleash the potential of people and organizations. And we have a long history of success in productivity tools. So that's what we want to continue to do for our manufacturing customers — provide the tools to unlock their potential in growth, innovation, quality and customer service and help them improve productivity by optimizing and connecting their operations. 
JR: You've been around manufacturing for much of your career. What is your perspective on the industry?  
MC: Manufacturing companies are so fundamental to our economy. For thousands of years, mankind has been a maker. The manufacturing industry has always been about innovation. Just take a quick look around the room you're in as you're reading this article, and you'll see the fundamental impact that manufacturing has on your life. I'd offer a few perspectives on the industry after being in and around it for over 30 years: 
1. Innovation has always been the absolute key to growth and profit in the manufacturing industry. This can take the form of innovative new products or innovative new manufacturing processes (like Lean). The good news is that the manufacturing industry knows how to innovate as companies in this industry need to innovate to survive. This makes manufacturing a very exciting place to be. At Microsoft we're excited to bring technology and systems innovation to manufacturing companies to, in turn, help them innovate in their marketplace.  
2. Speed and flexibility are much more critical now. The supply chain, customer demand and expectations and the global economy are all undergoing significant change. And Manufacturing companies sit right in the middle of all that change. With all the change facing the manufacturing industry, it's very difficult to predict what the future holds, so being able to adapt is critical, especially in ERP systems. We need to design in the ability to change and to change quickly. Customers just aren't willing to wait as long as they used to, either your external customers who can more easily find and purchase a competing product, or your internal IT customers, who are losing patience with years-long and expensive ERP projects. 
3. People are absolutely critical to your success. That's always been the case because companies are basically just a group of people with a shared mission. But now we're likely to face a hiring shortage, if you're not already facing it. And we're in the middle of lots of changes. That means you'll need tools to attract the best people, to help your people absolutely maximize their productivity and allow them to help you innovate and be engaged in the success of your company. It's going to be an all-hands-on-deck future for manufacturing companies. 
JR: Why have you stayed in the manufacturing sector throughout your career?
MC: I come from a computer science academic background but have always been passionate about the application of computer science and technology to business problems. And if you're interested in making technology useful in industry, you seem to end up working with manufacturing companies. The manufacturing industry has historically lead the way in business systems innovation starting with Financial and Inventory Control systems in the late 60's and going through MRP, MRPII and ERP. Manufacturing is a hotbed of innovation. 90 percent of all U.S. patents come from manufacturing companies so it's always been an interesting and exciting industry to me. 
JR: What makes Microsoft different from other ERP providers?
MC: Quite frankly, legacy ERP systems don't have a great reputation. When describing their current ERP solutions, most customers use words like expensive, slow to implement, hard to use and inflexible. Microsoft's approach to manufacturing systems is exactly opposite to this: low TCO, fast time to market, easy to use and agile. There is also the personal productivity side of the production worker that hasn't been well addressed and we think Microsoft is very well positioned here.
JR: What advice would you give to those within a company who are trying to convince upper management that ERP investments need to be made?
MC: There's always been a strong need for manufacturing systems. But with the global economic challenges, you'll need lower TCO and faster time-to-market solutions to make the business case these days. And they need to have the flexibility to address future changes in the demand and supply chain.  Those are benefits that you can sell to your business execs and we think we have a great story here.