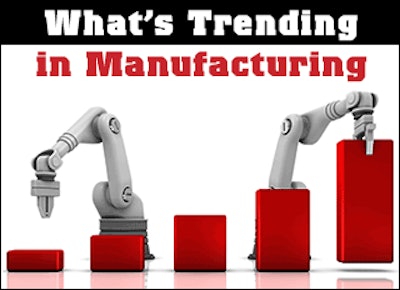 Here's a deeper look into the top trending stories in manufacturing today based on reader feedback. A look at controlling shipping costs and flying cars take to the sky. Below these stories, check out links to other related news and features at Manufacturing Business Technology.
---
If I were to take a poll of readers, collecting the answer to the question, "What one business process is obviously wasteful and also too difficult to fix," I think I can predict what a common answer might be. Take a moment to consider your own answer to the question.
If you said, "My office processes," that is a common problem place, or perhaps you know this author too well and you are trying to predict my train of thought. I'm looking for only a single process, or at least a single function where the challenge of eliminating waste seems too difficult. The collective office processes are too broad.
How about the shipping dock? I'm sure each of us has ordered something from a manufacturer, supplier, or on-line retailer and been surprised either by the seemingly exorbitant shipping fee, or by the oddly oversized, over-packaged box in which our items arrived. Have you ever gone a step further than shaking your head and shrugging your shoulders? Have you ever investigated the shipping fee? Continue reading...
Commenter ljp93105 says:
"It is very common that it is the 'error cases' that cause the problems. It seems obvious that much waste in packaging can be reduced by using a few box sizes that are similar to the ones offered by UPS, FedEx or Post Office for their express delivery services. In my own business, we keep a close eye on shipping costs. For example, we don't use overnight delivery services within the local region where UPS Ground delivers overnight anyway.
"One of my own horror stories was when we used a UPS owned customs brokerage to do inbound customs processing on a return from an overseas customer. They then chartered a delivery truck to drive 100 miles to deliver the package instead of sending it by UPS Ground, leading to a $400 delivery charge instead of $12."
Also check out Wrapped Around Innovation.
---
AirVenture 2013 saw a dream come true for the Terrafugia team-- the Transition street legal airplane flew and drove before the airshow crowds for its first public demonstrations.
But Terrafugia is not the only group trying to make fly cars a reality. Check out this story about a new joint venture hoping to bring not only flying cars, but also personal-sized utility saucer-shaped vehicles to consumers by 2014. Skycar 200 is designed for short distance, low-level flight and then it can be driven down a street at 30 MPH.
Check out all the latest videos on Manufacturing Business Technology here.
---
If you'd like to weigh-in about What's Trending In Manufacturing, leave a comment below or Email me at Jon.Minnick@advantagemedia.com.