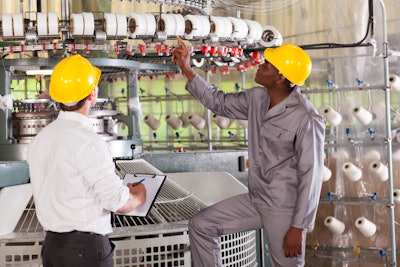 The material handling industry is uniquely tied to the fortunes of other industries and, as such, has much to gain from investments in technology supporting the design and on-going management of product lifecycles. Customers demand highly flexible and reliable material handling solutions supporting their own investments in manufacturing processes, products and distribution. Although complex manufacturing control systems have evolved to support the specific material handling challenges inherent to manufacturing operations, the basic goals to eliminate waste and improve process efficiency remain the same.
Complex manufacturers were the first to rely on technology for the control and management of material handling and assembly operations. Early on, many of these manufacturers employed a number of Industrial Engineers to design and build material handling solutions from component parts given the scarcity of third-party applications. Later, they contracted the building of designs specific to their operational requirements. As material handling companies gained industry and process expertise, they adopted and adapted designs for greater applicability to other industry participants.
In the years since these first systems were developed, competitive pressures — fueled by consumer demands for better quality and increased customization — have mounted within the industry. This has had a very real and direct impact on material handling solutions and those that provide them. Today, material handling solution providers support manufacturers who themselves rely on an increased number of third party parts and components enabling greater product differentiation. Too, these customers rely on far different supply chain configurations and utilize production methods that increase their ability to rapidly fulfill unique orders like postponed production.  
The net result has been an increased need for tighter collaboration and visibility up and down the supply chain. Because of interdependencies between supply-chain partners inherent to lean manufacturing processes, a minor error at a single supplier can quickly shut down a manufacturer until another source of material or components can fill the gap.
So how can a material handling solution provider utilize product lifecycle management capabilities to improve long term viability? Here are seven ideas.
Increase speed to market — this has obvious benefits to providers who must rapidly respond to unique customer demands; it may be the difference between winning and losing an opportunity. All aspects of time to market are positively influenced by a modern PLM solution including requirements definition, developing a concept, building a prototype, creating a design through to engineering and procurement, manufacturing, assembly and distribution.
Improve product data management — material handling companies can manage product structures, relationships between products and related documents as they change at any stage of the product lifecycle. Who couldn't benefit from the ability to immediately identify, cost and plan the precise type and number of components required to support a new design based on previous designs supporting similar requirements?
Optimize enterprise content management — capture, share, manage, track, and store documents, tasks, and product information in a central data repository. Too, companies can use role-driven retrieval and reuse of information to foster standardization across the enterprise while easily capturing decisions for future reference. Most companies maintain files of information without an ability to turn their information into a strategic asset.
View product information at all stages — providers can study real-time product data stored in the ERP system and proactively perform impact analysis to better understand the effect possible changes may have on cost, inventory, production schedules, cycle time, and quality before approving changes. As costs of steel rise, how great would it be to understand the impact a sourcing decision can have on specific projects you are supporting?
Use multiple CAD systems — easily operate in a multi-CAD environment with out-of-the-box interoperability with CAD systems from any provider.
Accelerate collaboration within your organization — Use social networking technologies to improve the speed, scale, and value of interactions between your employees — dramatically changing the ways in which they work with information, systems and each other.
Accelerate collaboration with suppliers — A huge benefit that allows companies to streamline and simplify two-way collaboration related to procurement, performance and billing information in support of a fully integrated supply chain.
Modern solutions are available in the cloud or on premises providing increased flexibility in support of companies who do not want to maintain an IT staff or those who need to rapidly support a number of locations across the country or across the world. These systems overcome the costly and time-consuming problem of migrating from decades-old legacy systems with the ability to import data from external systems. Too, they can also be used with enterprise resource planning (ERP) systems from multiple vendors — a capability commonly needed across the modern supplier community resulting from mergers, acquisitions, joint ventures and partnerships.
Historically, investments in this industry have focused on research and development leading to the delivery of new and improved products. Today, the industry is responding to customer demands for solutions that possess "on-board" intelligence that help monitor and track usage along with a host of diagnostics used to monitor efficiency, energy consumption and other diagnostic factors that support maintenance planning and delivery.
Product lifecycle management further supports this goal while evolving the capabilities of manufacturers allowing them to develop total solutions adding value — and revenue sources — from related design, implementation and maintenance activities. The providers of next-generation material handling solutions can benefit from product lifecycle management capabilities — business partners will appreciate and reward the investment.
Larry Korak, Industry Strategy Direction, Industrial Manufacturing, Infor.
---
To read more manufacturing and technology news, sign up for our newsletter. You can also follow Manufacturing Business Technology on Twitter @MBTwebsite.