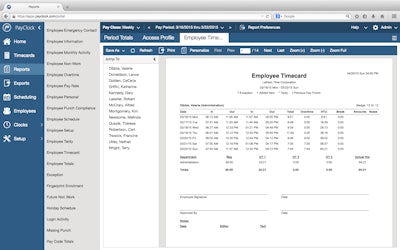 No one focuses more on lean practices than the manufacturing industry. Always looking for ways to increase efficiencies, manufacturers are known for cutting waste and streamlining operations. While managers are concerned with keeping productivity levels high on the plant floor, sometimes the back office gets overlooked. Bottom-line profits take a hit when administrative functions like manually processing employee time and attendance create inefficiencies and higher labor costs.
Thankfully, the cloud has made streamlining the back office easy. Cloud technology enables managers to review and process information through web-based software applications, rather than from a direct server connection or one computer. The cloud offers flexibility and convenience, and enables significant time savings and greater efficiency. With the cloud, information is updated in real time and available 24/7.
The cloud works better for the plant floor
In manufacturing plants across the country, managers spend most of their day on the plant floor, so relying on an employee time clock with paper punch time cards isn't efficient. Paper time cards require manual calculation, with the manager sitting at a desk tabulating hours, reviewing time off, and entering totals. They also lead to human error — from employees clocking in more than once to forgetting to clock out. This means that each payroll processing day is spent fixing errors that occurred a couple of weeks prior.
With the cloud, these challenges are eliminated and these administrative functions are automated. New employee time clocks that use biometrics or employee proximity badges work well with cloud-based time and attendance solutions. They allow employees to clock-in and out from different locations but deliver employee time data into one central online database. This gives plant managers the freedom and flexibility to keep up with employee time and attendance at their convenience. Because information is available to them 24/7, managers can process employee time data for payroll anytime, anywhere with an Internet connection. They can also be assured that whenever they are viewing time records, they have the most updated information. When an employee clocks in at the plant, the manager can immediately see that entry — whether he's on the other side of the plant or the other side of the country.
Using the cloud for time and attendance also means time records easily integrate with payroll software like QuickBooks and Paychex and many more. Manufacturers benefit from the cloud-based application because they don't need to maintain the software at their locations on additional network servers. Employee time and attendance data is protected and secure with redundant back-ups in secure offsite data centers.
Giving businesses freedom
Corrugated box manufacturer Mullen Box has experienced the benefits of cloud-based employee time and attendance at its plant in Canton, Ga. Like many manufacturing and industrial businesses, the company uses Lathem's PayClock Online cloud-based time and attendance system.
"I'm walking the plant 90 percent of my day," Manager James Poole said. "The biggest benefit of PayClock Online is the ability to check and handle any time and attendance issues from wherever I am. When I'm in the plant, I can go to the nearest PC and make adjustments there. Having a cloud-based system makes life so much simpler, instead of being tied to a specific PC or handling manual punch cards."
Better track employees
The cloud makes it easy to manage the employee workforce, regardless of worker classification. Different fields allow managers to quickly see how employees and subcontractors are spending their time. Management has improved visibility of employees approaching overtime, scheduled versus actual hours and better reporting on labor distribution across departments and employee pay rates. Companies like FLG Composites, an aviation repair company in South Florida and part of Aero System Composites, can easily see if its employees are spending time in the shop or working on customer deliveries. Accurate, real-time records enable Administrative Manager Claudia Lopez to easily keep track of employees and subcontractors in two offices and in the field.
FLG Composites also uses Lathem's PayClock Online to manage employee time and attendance for its company. "PayClock Online saves the company time so we can be more productive in all areas, and helps us improve in our lean culture."
The mobile functionality makes it easy for field-based workers to record their time and managers to tabulate employee work hours. Custom glass manufacturer Countryside Glass & Mirror in Dunedin, Fla., empowers its employees to clock in and out with their smartphones, enabling GPS tracking to record time from different work sites. As such, managers can easily view the recorded hours for all 85 employees on the PayClock Online system, regardless of where they are.
Cloud-based time and attendance is a critical tool for businesses looking to reduce timekeeping errors and create efficiencies. Smart manufacturers are using the system to streamline operations, boost productivity and position themselves competitively for the future.