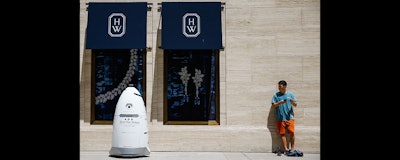 According to the American Enterprise Institute (AEI), the U.S. now produces 40 percent more factory output than 20 years ago — all with five million fewer workers.
Over the past few decades, there has been an explosion in factory productivity, thanks in part to several advances in technology. As individual factories increasingly adopt these innovations, so do their supply chain partners, which creates reverberating, productivity-increasing effects down the line.
Several technologies have converged to create this rapid increase in productivity for the manufacturing industry. For example, improved prototyping lowers costs and increases the efficiency of research and design, which allows for lower barriers-to-entry when bringing final products to market. This helps operators try new ideas with much lower risk and get them off the line more quickly. With this, improvements in IoT, operational technology and information technology allow more visibility into a manufacturer's data, helping them improve slow or ineffective factors in the overall process. More and more, middle-tier manufacturers are using data-driven technologies and processes to become more responsive and efficient and, in doing so, continue to reap the benefits we've seen thus far. But, in order for all these innovations to continue to have a positive impact on output and efficiency, manufacturers must ultimately focus on centralizing data from every step in the production process.
Goods Are Being Produced in Record Time
Recent advances in technology, like 3D printing, mean that companies can have a much quicker research and design phase of a product, as well as shorter lags between designing, building and testing. This allows for less risky testing, so a process that was once a costly endeavor is much more easy, quick and secure. Before, lengthy and expensive design and testing phases meant that hopeful investors and small businesses were all but barred from the industry. But now, improvements from 3D printing creates a safer and, thus, more attractive environment for businesses or investors who may have otherwise been unable to afford more traditional or offshore options.
Centralized Data Means Better Operations Overall
Before recent technological innovations, manufacturers were often at the mercy of inefficiencies further up the supply chain. One supplier's lag could have meant another manufacturer's loss in revenue. But, improvements in the analysis and centralization of data mean that every actor in the supply chain can now understand exactly where delays or mistakes originate. By centralizing data that has traditionally been siloed in various points along the supply chain, manufacturers are now seeing exponential improvements in efficiency and output.
The current way most manufacturers collect data is through the Internet of Things, but as this practice of curating relevant and useful information improves, deeper analysis will be done much more effectively through AI and machine learning. For example, in one factory alone, there are hundreds of thousands of data points available from various sensors, including system malfunction and failure alerts, cycle time variations, equipment temperature fluctuations, etc. This kind of technology allows data scientists to use data from ERP systems to better understand the external factors are affecting various processes.
Through AI and machine learning, data scientists are able to efficiently study these vast amounts of data and correlate any delays or lags with their causes. They can then use these insights to improve plant or equipment maintenance, decrease downtime, run operations more lean, etc. — and all through one centralized system.
Final Thoughts
We've seen an explosion in manufacturing productivity over the last few decades despite a smaller workforce, and that's due in part to technological improvements. For manufacturers to continue reaping these benefits, they should invest in technology that reduces time and cost of various phases in product creation. They should also work to centralize the data from across the supply chain and leverage it to increase efficiency and productivity. Many solutions are still yet to come, so by investing in new technology now, manufacturers are setting themselves up for greater future success.
Kevin Hartman is a solutionist and David Kinney is a principal architect both with SPR.