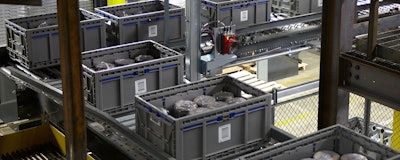 Supply chains rely more and more on robotics and automation to reduce costs, increase speed and achieve consistent quality. But even though these systems are highly independent, they can't move goods down the supply chain alone. Automated equipment is constantly interacting with material handling packaging to get products from point A to point B, and this packaging is just as important to business success as the equipment itself.
The packaging industry is aware of booming automation needs and is creating innovative solutions for industries, including food and beverage, pharmaceutical, automotive, industrial and consumer packaged goods. Many companies, however, are still using packaging that doesn't perfectly fit or complement the automated equipment they are installing in their supply chains.
If material handling packaging isn't properly considered, it can have adverse effects on equipment. But if thorough evaluation and testing with a trusted, experienced supplier is done, packaging can increase automation performance. Some reusable packaging suppliers can even customize solutions based on the precise needs of an automated system, making it as productive and efficient as it was intended to be.
Reusable Packaging Ideal For Automation
Packaging used in automation should be durable enough to withstand rugged handling. Reusable packaging manufactured from plastic materials, for example, is dimensionally consistent for repeat performance in automation. Plastic totes hold their shape over time, so sensors can get consistent reads. The standardized dimensions of reusable packaging mean it will consistently move through the system without jams, reducing costly stops and delays in production.
Additionally, packaging manufactured from reusable plastic materials also doesn't create dust in a system. Debris such as fiber dust or wood chips can accumulate on automated equipment, causing unsanitary conditions, dangerous environments and system slowdowns from friction or interference. For industries such as food and beverage, this also could have safety issues with increased chances of contamination.
Incompatibility with equipment and other packaging could damage goods. A reliable packaging structure not only offers repeat performance, but it also better protects the products being carried so they are not harmed along the supply chain. The innovative capabilities of reusable plastic packaging open new opportunities for companies to increase product protection.
Unique Solutions Made Just For Your System
There is a range of useful material handling products available on the market, such as pallets, totes, containers and dollies. Many of these products include features that make moving through commonly used automated systems — goods-to-person systems — easier and more effective because of the reasons explained above — product protection, cleanability and safety.
But reusable packaging is much more than its durable material. Reusable packaging also has ergonomic capabilities to optimize fully or partially automated systems. Some solutions include hinged doors for easy picking, divider sets for more protection, larger interior space for higher density, open and closed lids for dual use, compartments for sorting, upper rims and bumpers to travel seamlessly through high-speed systems, and smooth exteriors for easy access to tracking labels.
Some systems, however, require an entirely new solution. This could be one that has never been done before, as sometimes retrofitting existing packaging doesn't work. Although there are a range of reusable packaging solutions for available automated systems, consider if a supplier can customize a solution specifically for your automated system to meet your functional needs.
Automated systems may require a specific footprint, material combination, key features or style to effectively pick, move and package a product. For a supply chain to get the most out of automated systems, material handling packaging must be chosen based on the way the system operates and the goods it's moving.
The Simple Process Of Creating Custom Solutions
Although all suppliers have their own strategy for manufacturing custom packaging solutions, there are a few considerations to keep in mind as you are going through the process with a third-party partner:
Be prepared to audit your current system: "Walk" or evaluate your system for improvement opportunities or pain points, like product damage or system downtime, that can impact your systemwide efficiency. This step allows every part of the supply chain to be analyzed and evaluated so the determined solution appropriately impacts the entire system.
Be open to new thinking and out-of-the-box solutions: Get to the root needs of your system and consider packaging that can be reused over time. Also, work with packaging providers that have supply chain insight and learnings from other implementations.
Be willing to work with a design and engineering team to construct initial design: With insights from the audit, designers will determine a variety of packaging options to choose from.
Alterations may be needed, but the result is rewarding: Piloting a tote or pallet system is important because it allows all users to understand the objectives and have a voice in how it works for their part of the supply chain.
Custom Solution In A Real-World Automation Application
Working with reusable packaging manufacturer, ORBIS Corporation, a supplier for a national manufacturer of personal and household care products was able to reduce the amount of packaging and labor used to prepare its aerosol products for distribution. The company relied on ORBIS to replace the corrugated boxes it was originally using in its supply chain with reusable totes.
Before working with ORBIS, the company was filling empty aerosol cans and putting finished products in corrugated boxes to be inventoried. Only nine finished aerosol cans could fit into one standard corrugated box. After the corrugated boxes were replaced with reusable plastic totes, the company could package six times the cans at a time, reducing waste, labor and packaging needs without system alterations.
Additionally, the reusable plastic totes were customized with molded holes that allowed pins to push the product halfway out of the tote for easier picking and packing. Now with a trusted custom packaging supplier and reusable packaging system in place, determining what is possible and most efficient for its supply chain will be easier in the future.
Automation will continue to play a greater role in supply chains, and the packaging used to carry goods throughout those systems will have a great significance, too. As you design your automated system and advance your supply chain capabilities, explore what custom packaging can do to make your advanced system run as smooth as possible.
Andrea Nottestad is the Market Manager — Retail Supply Chain — at ORBIS Corporation.