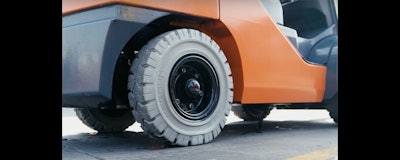 More than simple tools of the trade, forklifts are increasingly the focus of true fleet management by their various industrial and commercial owners. Such maturation of the material-handling industry is among the leading trends that were observed by Camso's Product Line Executive Director, Erick Bellefleur, during the successful ProMat 2017 held in Chicago this April. This year, a record number of 900-plus exhibitors spread over two halls at Chicago's McCormick Place attracted over 40,000 material-handling professionals to the exposition.
What we see with larger fleets is that managers are becoming more and more concerned about the following question: "how much is it costing me to maintain our entire fleet of forklift trucks"? Fleet managers have maintenance budgets and tires are a significant portion of that budget. It can be up to 25 percent, even 30 percent, of the cost of operating a fleet of forklifts.
The core issue is not that the tires themselves are particularly pricey but rather that tires are collectively the leading wear part on this type of equipment.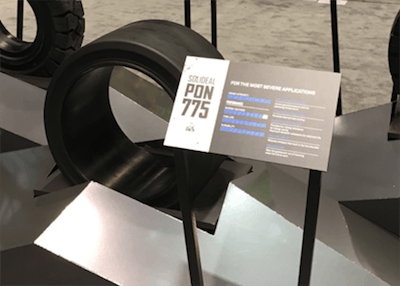 Top 5 Industry Trends Observed At ProMat
Energy Efficiency. We see a growing trend for electrically powered forklifts. A forklift battery lasts around 8 hours under good conditions. Ensuring that a facility's fleet can run through complete shifts without downtime due to recharging batteries is key. Numerous factors play a role in determining the overall reduction of costs associated with energy savings, but one must remember that every aspect of the forklift operation is affected by the tires on which they run – and this is especially true when maximizing battery life. To that end, Camso's new tire solutions answer the energy efficient requirements of fleets moving towards battery and alternative fuels. The Solideal RES 660 Xtreme Series and the soon-to-be launch Solideal PON 775 tires are examples of products specifically designed to maximize the efficiency of the forklift with impressive low rolling resistance rubber compounds.
Non-Marking Tires. There is a significant increase throughout North America and Europe for non-marking solutions where there is demand for cleanliness. As companies improve their facilities and improve floor conditions, they don't want to see tire marks left by forklifts or for black rubber dust to transfer onto the goods they are distributing. Non-marking is also gaining popularity with rental fleet owners, who don't know where their trucks are going from one month to the next. By equipping their fleet with non-marking tires, they can fully utilize their fleet in any application. Camso's non-marking tire options provide users with the same performance benefits of their black equivalent while providing all the benefits of non-marking technology.
Compact Platforms. The industry's demand for forklifts that balance increased lifting capacity with today's less bulky equipment design is on the rise. OEMs are therefore constantly looking to increase productivity on smaller platforms without increasing tire size. This is a trend that naturally increases the amount of energy being transferred to the tires with smaller contact surface and volume. Resistance to the resulting heat build-up are keys to product development at Camso where tires are designed to handle the demands of the modern fleet of forklifts.
Safety. Beyond the obvious aspects of safety related to tire design, we are increasingly challenged on things that can affect the operator over time. Two such things are vibration and noise generated by the tires. As forklifts have no suspension, there is little to isolate the operator from the tire vibration. It's therefore critical that as we design tires to handle the intensity, life and energy requirements on the modern forklift fleet, we also be mindful that our tread designs minimize this as much as possible.
Fleet Management. As the leading wear part, tires are increasingly on the radar of companies now looking to incorporate forklifts into their fleet management programs. They need additional information and hard data to determine just how much tires for their forklift fleets are costing them.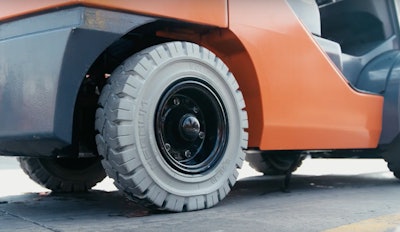 Traditionally tire manufacturers have offered a line of good, better and best tires each with different performance and life expectations. What we learned is that customers don't always need a high-performance tire, but they don't want to compromise on life. Our new line of resilient tires has been reengineered to give the best possible life in the industry regardless of your selection. Instead we offer tools such as our Usage Intensity Calculator to determine the applications intensity, ensuring the right tire is selected without over paying for performance that's not needed. We believe in offering our customers the Lowest Operating Cost Solution (LOCS), and demonstrating the true cost of ownership, instead of simply focusing on acquisition cost.
The forklift industry is over 100 years of age. Trucks have evolved from a basic single-purpose machine into sophisticated systems that serve a growing range of industries and applications. Forklifts are expected to move loads that are heavier than ever, as well as moving them faster and lift them higher. As new forklift technologies have developed, the demands for tires has changed too. And new trends noticed at ProMat, field tests and daily discussions with customers all suggest that stress on the wheels and tires will keep increasing.
Camso R&D teams continue to develop and introduce products that address fleet management needs and industry trends. Whether it's bringing to market tire solutions designed to offer the maximum lifespan if your application or introducing digital tools to help customers select the right tire based on the forklift application and usage such as the Usage Intensity Calculator, we always ensure that you get the lowest operating cost solution.
Erick Bellefleur is Camso's Product Line Executive Director.​ Camso, the Road Free company, designs, manufactures and distributes off-road tires, wheels, rubber tracks and undercarriage systems to serve the material handling, construction, agricultural and power sports industries.