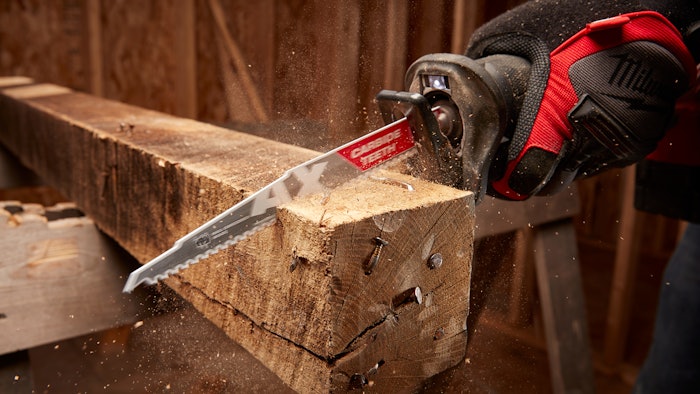 Every day the public perception of manufacturing is changing for the better. Manufacturers across the country are welcoming more and more people inside to tour their factories and take a peek at what actually happens in a modern manufacturing facility. Milwaukee Tool is no different.
In late March, the world-renowned tool maker opened the doors of its Greenwood, MS facility to members of the media for the first time. Revealed was a facility that operates like a welloiled machine — producing pallets upon pallets full of Sawzall blades and hole saws — and a company that cares about its employees.
In 2001, Milwaukee Tool opened its 120,000-square-foot Greenwood, MS facility with just 87 employees. Milwaukee moved all manufacturing to
Mississippi in 2004. A recent expansion in 2015 — which included a second building and 220,000-square-feet of additional space for future expansion — brought in 126 jobs bringing the total to 508 employees.
Today, the Mississippi facility boasts 670 employees, while the company is still headquartered in the Milwaukee suburb of Brookfield, WI.
Method Behind Design
The Sawzall saw and Sawzall blade — "the first system to cut all materials" — was invented by Milwaukee Tool in 1951. Since then, engineers have been steadily improving the tool and its accessories. In 1999 Milwaukee released the Ax Blade — "the first true demolition
blade for wood cutting," said product manager Brad Urban.
In 2012, the tool company unveiled its next breakthrough — nail guard technology which protects the blade from broken teeth when hitting a nail while sawing through wood.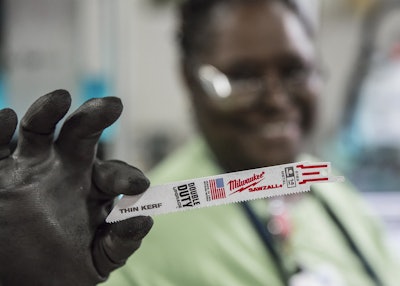 "The nail guard — having that little shoulder on each tooth to deflect any nails or screws — gives the user the durability they were craving," Urban said.
The next leap forward was introducing carbide teeth to the Ax. This gave the Ax blades longer life over bimetal blades and
faster cutting capability.
"We are a growth company," said Scott Griswold, president of power tool accessories at Milwaukee Tool. "It's not comfortable to develop a carbide tip line that you know is going to cannibalize your bimetal line. But you have to do it. We are committed to it and we're going to put our money where our mouth is."
Those innovations, and all others in its past exemplify how Milwaukee Tool prides itself on being a company that manufactures high-quality tools for professionals.
"We are building the tools and accessories that people rely on to make a living," plant manager Jack Bilotta said. "The tools we send
them to work with are something that's going to keep them on their job, be more efficient and keep them ahead of the competition."
However, before the first cut is made with a new tool prototype, extensive fieldwork and research must be done. That means being out on the jobsite.
"We need to understand, on a grassroots level, what are people doing on a daily basis," product manager Ryan Rudzinski said. "What are their frustrations, what's working for them, how can we make our products better and what's the competition doing?"
Rudzinski relayed comments made by a contractor in California on how an improved hole saw could increase productivity and efficiency on the job site.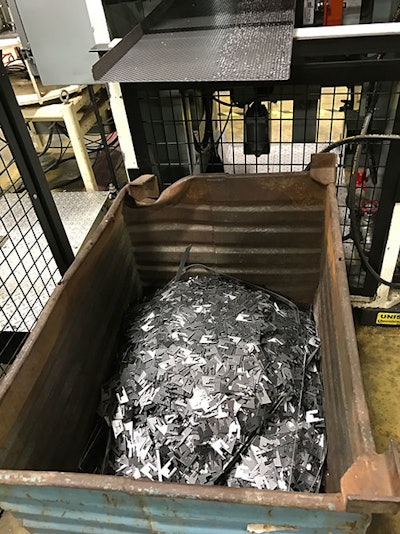 Constantly breaking saw teeth while cutting hole through corrugated roofing and other materials drastically stalls the work day while a worker looks to replace the tool.
After getting feedback on the ground, Milwaukee's team hits the ground running, designing the latest innovations to solve the problems their customers face every day. One thing that makes Milwaukee Tool unique is its Rapid Innovation Center in Brookfield. There, engineers can quickly turn an idea into a prototype ready for testing.
When developing Hole Dozer — "which Milwaukee calls its most durable hole saw" — Rudzinski said engineers were able to keep tweaking the design until the company finally had a product worthy of a warranty.
"Still, to this day, we are the only company that has a warranty on a hole saw," Rudzinski said.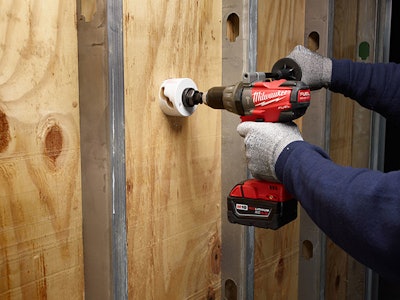 When it came to the Ax with carbide teeth, Urban says Milwaukee made more than 1,500 prototype blades. Prototypes, along with a few competitors' products, were then sandblasted to remove all markings and sent out into the field for blind product testing by professionals in the core trades.
"It was during this phase that we knew we had something special with the Ax with carbide teeth," Urban said. "The performance was there, we were seeing a preference over the competitive blades and we were getting some interesting feedback."
Among that feedback was a framer who reported he used the blade to make more than 40 cuts through rebar.
"A woodcutting blade cutting rebar is something we hadn't seen before," Urban said. "That was the big eye-opener, we have something special here. It can handle your standard material, but also make cuts in the extreme."
Behind The Blade
"What you saw today is a typical day and I hope you were impressed with the cleanliness of the plant," Bilotta told media members at Milwaukee Tool's March event. "We can get a call on any day for a tour and I'm not embarrassed to have people come in."
But it wasn't always that way. Bilotta said the plant implemented a 5S culture to "get the facility to a point where it was always presentable." 5S is a workplace organization method that utilizes space for efficiency and effectiveness through identifying and storing items used, maintaining the area and items and sustaining the new order.
Bilotta added that a little over two years ago, the plant was reorganized into a focus factory flow. One of the objectives was to minimize forklift traffic throughout the plant allowing the products to drive the process.
"You see fabrication flowing into heat treat, flowing into paint, packaging — without forklifts — and then to the dock and shipped out," Bilotta said.
The focus factory flow eliminates moving the products around unnecessarily which eliminates the potential for damage to occur, lowers congestion and increases safety on the plant floor.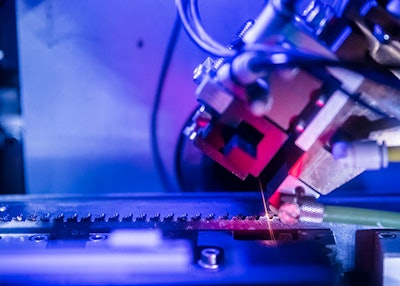 More Than Just Tools
If there's just one thing to be taken away from a tour of Milwaukee Tool's manufacturing facility, it is that the company is committed to growth.
"We have about 120,000 square feet for future growth, plus over 20 acres outside that we could expand on," Griswold said. "We've got the opportunity to grow here and continue to bring new products to Greenwood."
In a surprise visit to the facility, Mississippi Governor Phil Bryant praised the effect Milwaukee Tool has had on the Mississippi Delta community.
"Not only do they produce the best tools available, they have changed the lives of more than 600 Mississippians," Bryant told the crowd of employees and invited media. "The more than 600 people that work for this fine company are living the American dream."
Milwaukee not only takes pride in the tools it produces, but also the welfare of its employees. Workers come from a variety of educational backgrounds, and the company has assisted some with receiving their GEDs and others with pursuing further education through a college reimbursement program.
The company is also very involved with Mississippi State University, as well as the Haley Barbour Center for Manufacturing Excellence at the University of Mississippi. There, engineering students get crossover training in mechanical and industrial engineering, accounting and business management.
"It gives us access to a lot of talent," Bilotta said. "It gives us a lot of opportunity to keep that talent in Mississippi."
In addition to an expanded manufacturing facility, the 2015 expansion project also included an onsite health clinic for employees and their families. Bilotta said the clinic has helped stabilize the daily workforce.
"Before people wouldn't go to the doctor, come into work sick and then get everyone else sick," Bilotta said. "Or they'd miss an entire day for their doctor's appointment. It's a huge benefit. It is about doing the right thing for the people who work here."
On The Horizon
Company officials say the most recent expansion at Greenwood is just the beginning of what the future holds for Milwaukee Tool.
"If you know anything of Milwaukee Tool, it's that we are absolutely obsessed with growth, being No. 1 in the industry and being the most preferred brand by our core trades around the world," Griswold said.
For more information about Milwaukee Tool, visit www.MilwaukeeTool.com.