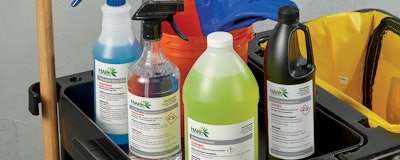 Industrial end users — from plant, operations, and maintenance managers to janitorial and sanitation supervisors to environmental health and safety (EHS) compliance officers — must now ask if their chemical labels are GHS compliant.
In the U.S., OSHA set a June 1, 2016 deadline for end users to update their workplace labels. If compliance is lacking, industrial end users must be prepared to document for OSHA their good faith efforts to become compliant, including an expected timeline for achieving it.
The "Globally Harmonized System" (GHS) was established by the United Nations to create a unified system for identifying and communicating hazardous chemicals. According to OSHA, the new standard covers over 43 million workers who produce or handle hazardous chemicals in more than five million workplaces across the country.
GHS compliance is even required for chemical formulations purchased in bulk containers for cost savings, such as barrels of industrial cleaner, that are transferred to smaller "down-packed" containers, such as spray bottles, for portable use. Container sizes requiring GHS-compliant labeling generally range from 55-gallon drums down to spray bottles and even small samples or test vials.
In an industrial setting, chemical formulations that could require GHS labeling range from industrial primers, coatings, and sealants to lubricants, greases, cutting oils, and rust removers to acid, alkaline, and solvent based cleaners to degreasers, surfactants, disinfectants, and sanitizers.
With a GHS deadline looming for industrial end users, here are six tips to quickly get up to speed on GHS regulation and ensure compliance for even smaller "down-packed" chemical container labeling.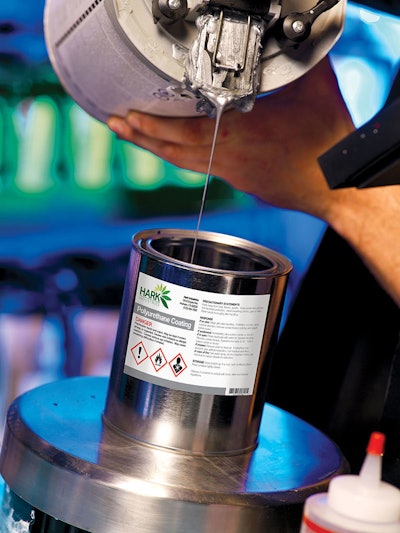 1) Have GHS-compliant safety data sheets and labels and train workers to handle hazardous chemicals properly. On each GHS label, six items of data are required: Product Name or Identifier; Hazard Statement; Signal Word; GHS Pictogram symbols; Precautionary Statement; and Supplier Information.
Instead of the familiar black and white pictogram symbols previously used in safety labeling, GHS labels now require pictogram symbols that convey hazard information with a red diamond border.
2) Label all secondary containers. If a chemical is supplied to the workplace with a GHS label, it must be maintained. If the chemical is transferred to a secondary container, such as a tank or spray bottle that stays in the workplace, employers may label it with information from the original GHS shipping label or safety data sheet.
However, employers may choose to use an alternate system such as the National Fire Protection Association's (NFPA) Standard 704 or the American Coatings Association (ACA)'s Hazardous Materials Identification System (HMIS). If using an alternate system, the employer must ensure the information is consistent with GHS and that workers understand specific physical and health hazards.
If a chemical is transferred to a "portable" secondary container, such as a dropper bottle, for use only by the person who transferred it during the same work shift, a label is not required because it is considered "immediate use."
3) Save on printing with durable label options on demand. For those currently using HMIS or NFPA labels for in-plant containers, related written documentation, and training, the question is how to achieve GHS compliance and integrate it with HMIS or NFPA, which have been used for decades.
Though differences exist in GHS, HMIS and NFPA, such as opposite numbering for GHS level of hazard, OSHA allows employers to use HMIS and NFPA in the workplace as long as they are consistent with GHS (HCS 2012) and workers are properly trained for GHS.
Implementing GHS labeling can seem daunting to industrial end users, but does not have to be. Many are turning to flexible, lower cost options, such as industrial-grade labels from Avery that allow printing durable GHS, HMIS, or hybrid labels on demand with existing laser printers and certain inkjet printers.While Avery has been a leading office label brand for decades, it has recently expanded into the industrial market with industrial-grade labels for GHS compliance, such as its UltraDuty GHS Chemical Labels. Unlike standard labels, industrial labels are used in harsh environments like warehouses, manufacturing facilities, and in the field so must be very durable and able to withstand exposure to chemicals, abrasion, tearing, moisture, sunlight, and extreme temperatures.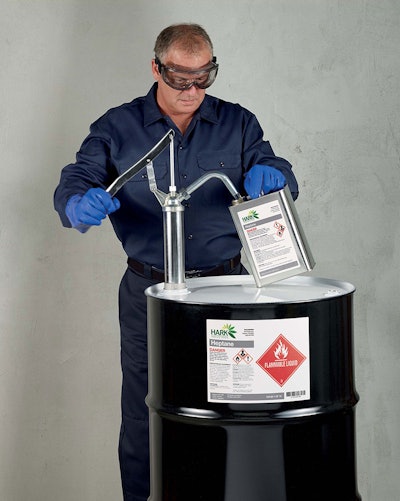 4) Meet rugged GHS industrial requirements to stay compliant. The challenge is that to be GHS compliant, labels must stay reliably affixed without fading or becoming unreadable despite harsh indoor or outdoor conditions including exposure to chemicals, moisture, and spills.
Some industrial label companies have designed their labels to meet rigorous GHS requirements. For instance, Avery's UltraDuty GHS Chemical Labels are chemical resistant, tear resistant, abrasion resistant, and constructed with a marine-grade adhesive that is waterproof and passes a 90-day seawater submersion adhesion test.
Unlike typical labels, which crack and harden in harsh conditions, the GHS labels are UV resistant with two-plus years of outdoor UV life. They are also temperature resistant, can be applied as low as 10° F, and used between -20° F to 220° F when printed from color laser printers or -40° F to 300° F when printed from pigment-based inkjet printers.
"Staying GHS compliant will not only help industrial end users avoid OSHA fines, sanctions, or auditing, but also position them ahead of the curve if other industry standards are allowed to sunset," says Glenn Hallett, President of RightAnswer.com, Inc., a chemical compliance and information specialist.
Hallett notes that remaining GHS label compliant depends on the durability of the appropriate label substrate, getting the label content right, and effective document management.
"Companies in industrial settings that have long used HMIS labels will now also want the ability to print GHS labels, HMIS labels, NFPA labels or some alternative that will accommodate their requirements," says Hallett. "Such flexibility will help ease the industry's transition to GHS labeling and minimize any operational disruption."
5) Take advantage of free label-printing software. Avery, for instance, provides such GHS, HMIS, and NFPA-compliant label software at no cost. The company's Design & Print GHS Wizard allows employees to create and print their own GHS and HMIS labels from pre-designed templates. They can create on demand labels step-by-step at their desk, as well as create GHS and HMIS hybrid labels capable of satisfying both systems. Most employees find such a process intuitive, since it resembles creating an office document from pre-designed templates.
The software includes the pictograms and GHS compliant statements needed for GHS labeling; allows customizable text; insertion of company logo or other images; generation of 18 types of barcodes; and a sequential numbering feature to add lot numbers or other variable data. No download is required since the software operates from Avery's website, and GHS, HMIS, and NFPA labels can be securely saved online or to a computer. The software is also capable of printing other safety labels such as OSHA, ANSI, and DOT labels.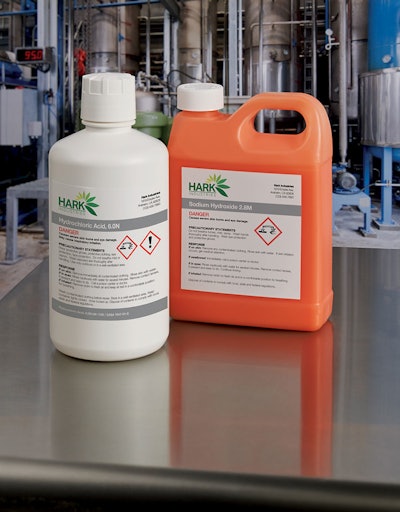 6) Choose GHS labels that work with the full range of container sizes and container surface types. GHS and HMIS labels such as Avery's are available in a range of sizes to fit drums, totes, pails, cans, jugs, containers, and even small bottles. They can be applied to a variety of surfaces such as metal, plastic, glass, ceramic, polycarbonate, painted surfaces and more. Similar to the company's office labels, the GHS and HMIS labels offer Easy Peel, smudge-free and jam-free capability.
For labeling that requires the durability of extra lamination, the company also offers Easy Align Self-Laminating ID Labels, which come with a clear laminate so no lamination machine or additional layer of tape is needed. The material is UV and water resistant, and resists scuffing, tearing and smudging, making the labels suitable in production, warehouse, maintenance and repair areas, as well as other industrial worksites.
To help companies stay compliant for GHS, HMIS, and other regulatory situations, including OSHA safety communication, Avery has partnered with RightAnswer. Through a portal in Avery's website, RightAnswer offers comprehensive online access to over 100 proprietary, government, and EHS data sources with over 11 million documents covering more than 400,000 chemical substances, all integrated and available through a single interface.
"For industrial companies that keep asking EHS managers to do more with less, Avery's partnering with RightAnswer can help them stay not only GHS, HMIS and NFPA label compliant, but also up to date on the chemical issues they're concerned about," says Hallett. "It's an online one-stop chemical compliance and information solution that's offered at a discount through the Avery website portal."
For more info, visit www.avery.com/GHS.
Del Williams is a technical writer based in Torrance, California.