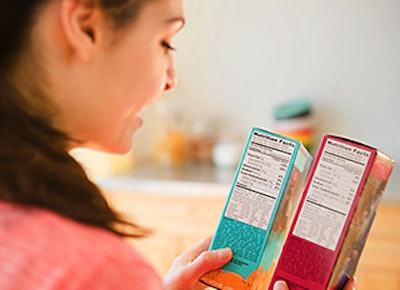 Consumers of today are much more health-conscious and ingredient-aware than those of the past. When it comes to food and beverage choices, an increasing number of consumers want 100 percent transparency and "clean" ingredients, meaning no artificial additives.
And unfortunately for the food manufacturers, its not going to get any easier.
Did you know that 87 percent of today's American consumers are not only looking at the Nutrition Facts label on packaged foods and drinks, but most (56 percent) are also actively looking for nutritional information and guidelines?
So food makers better be prepared to make changes (if they haven't already done so) to their products in order to keep up with the changing consumer outlook.
A recent report, Nutritional Labeling and Clean Labels in the U.S.: Future of Food Retailing, said these mindful consumers are looking for labels to be "clean" and well seen.
Consumers speak up
According to the survey, more than two thirds (67 percent) of consumers prefer groceries with simpler ingredients, while nearly the same percentage take ingredient-free statements, nutritional content announcements, and statements about health benefits into consideration when purchasing food and beverage products.
What's more is these consumers are learning to voice their concerns through social media, advocacy groups, consumer surveys and petitions — announcing to the food industry exactly what they want and do not want in their food supply.
As their concerns get louder though, the industry is definitely taking note. Many food companies are beginning to reformulate and reposition some of their products and product lines to incorporate cleaner nutrition labels. Many retailers have even began developing their own healthy brands of clean-label products. And that's not all — even foodservice providers are endeavoring for more transparency and cleaner ingredient statements.
Some of the more major initiatives the industry has seen as of late, include eliminating artificial colors and flavors, replacing artificial preservatives with more natural choices, reducing the amount of added sugars, reducing or even eliminating the antibiotics used in agriculture animals, and switching to GMO-free ingredients.
Some recent examples include:
Kraft Foods Group announcing its plans to remove artificial coloring and preservatives from its Original Macaroni & Cheese products beginning in Jan. 2016.
Hershey is beginning to reformulate its products with simpler and easier-to-understand ingredients by following a three-prong strategy: simpler and more natural ingredients, transparency and sharing ingredient information with its consumers, and sourcing responsible and sustainable ingredients.
Nestlé USA is eliminating its artificial coloring and flavoring in all of its chocolate candy products by the end of this year.
Tyson Foods' promise to eliminate antibiotic use in its chickens by September 2017. Tyson, the country's largest poultry producer, is a major supplier to McDonald's, who a month earlier announced that its 14,000 U.S. units will stop selling chicken raised with human antibiotics within the next two years.
Consumers truly can make a difference, they just have to known when and how to voice their concerns. In just this past year, the industry has already seen food giants stepping forward and agreeing to simplify, share, reduce and eliminate certain ingredients.
That's a huge leap from where we were yesterday and I can only imagine what the next couple of years will bring.