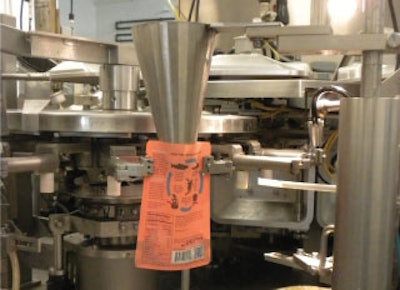 This article originally ran in the March 2013 issue of Food Manufacturing.

Oregon Seafoods in Coos Bay, Ore., aims to help sustain the local fishing economy by processing tuna and salmon for sale to area grocers and food service companies.
Three years ago, Mike Babcock opened Oregon Seafoods as a company with strong ties to the local economy. Located in Coos Bay, Ore., not far from the Pacific Coast, the business was originally conceptualized as a way to process local seafood that hadn't been sold at local fish markets.
Once Babcock began construction on the facility, however, he realized the scope of his business could be bigger and that he needed more product to really make it in the market. In researching consumer tastes, Babcock found albacore tuna to be "excellent," and that Monterey Bay Seafood Aquarium had given it a "Best Choice" rating. It just so happens that albacore is especially plentiful in the waters near Charleston, Ore., a mere 15-minute drive from the Oregon Seafoods facility.
Babcock found that dock prices for albacore were relatively low and that local fishermen were looking for ways to increase sale prices. He says, "Most of the tuna fish get shipped outside of Oregon for processing, and it's really a shame. This resource that we have here in Western Oregon should stay here and be processed by American workers, and that's not happening. And we're hoping to change that."
With this in mind, Babcock built a facility specifically to handle albacore tuna and now sources his tuna from the Charleston area. "We source from several family-owned fishing boats," he says.
In these bins, Oregon Seafoods receives fresh tuna from local fishermen in Charleston, Ore.
In addition to tuna processing, which is the company's real bread and butter, the facility also processes several salmon products and sources its salmon from Alaska. The combined production totals over 3,000 pouches per week.
Cans vs. Pouches
Oregon Seafoods employs eight workers who oversee the company's production. Babcock is proud that his business sources local fish and employs U.S. workers. He says tuna processing is a very labor-intensive practice, and that filleting is easily the company's single biggest cost. All albacore tuna at Oregon Seafoods — and across the industry — is hand-filleted, as there is not currently a machine on the market to do the job.
Because of this, much of the tuna fish on store shelves is processed overseas due to reduced labor costs. Most fish processed overseas is caught in the U.S., shipped to processing facilities in countries with much lower labor rates, processed there and shipped back to the U.S. Babcock says this process involves double-cooking the product, once before the meat is removed from the bones, and then again after it is placed in cans.
Babcock says these methods simply don't cut it. "The cook time on a four-pound can is over four hours, and then it continues to cook after being removed from the cooker, for a period of up to 24 hours sometimes." He continues, "Our four-pound pouch cook-time is 73 minutes. And then at the end of the cook, we water-cool that product to stop the cooking process right away."
After weighing the options, Babcock says he knew pouches were the way to go. He says, "As we looked at different packaging options, and we looked at the environment aspects of cans versus pouches, we decided it would be worth it to invest in the pouch machinery, and so we did exactly that. In the summer of 2010 we sourced our first pouch machine and installed that and started running, and once we proved that this was a viable thing — we're able to process this albacore tuna into a pouch, put it in our retort and cook it in pure steam — we decided to go out and get another machine, and we installed that in the spring of 2011. We now have two Toyo Jidoki pouch machines. One does our larger food service pouches, and the new one does the smaller retail size pouches."
Oregon Seafoods cooks its four-pound pouches of cooked tuna for 73 minutes in this retort cooker.
Babcock's pouched tuna contains more of the tuna's natural fat and a drastically higher presence of Omega-3s.
The decision to process in pouches wasn't made without some sacrifice. Babcock says, "The plant was originally set up to run the four-pound can. But once we started to do our research on cans versus pouches, and looked at all the benefits of the pouch, we made the commitment to take out that four-pound machine and put in the vacuum pouch machines… There was some plant retro-fitting that had to happen. We had to install special vacuum pumps and booster pumps to be able to achieve our process."
The Process
Oregon Seafoods receives containers filled with local tuna. The tuna is kept in a temperature controlled room until it is ready to be processed. The tuna is then filleted. The company's pouch machines handle each pouch, which is then filled with the filleted fish. The machine vacuums all the air out of the pouch and seals it. The pouches are then loaded into the retort and cooked. The resultant shelf-stable pouches are then subjected to a cooling bath.
Oregon Seafoods serves two primary markets with its tuna and salmon products. Food service pouches are made in two- and four-pound pouches, while retail branded products come in 6- to 7.5-ounce pouches. All Oregon Seafood products are branded under the name Sea Fare Pacific and can be found in over 300 stores, a number that is growing steadily.
Babcock says the New Seasons Market chain of grocery stores in Portland, Ore., has been using Oregon Seafoods foodservice pouches for use in their delis with great success. Cooks can tell the difference, Babcock says, between canned tuna fish and Oregon Seafoods' products, which have more flavor and a better overall texture.
In addition to retail and food service brands, Oregon Seafoods co-packs for two brands that supply deli and food service markets.
Oregon Seafoods' filling machine co-packs pouches of salmon in chardonnay dill cream sauce for Fishpeople.
One such arrangement is with Fishpeople in Portland, Ore., which works with Oregon Seafoods through a co-packing arrangement. Fishpeople makes four different sauces to which Oregon Seafoods adds its own seafood to create pouched, ready-to-eat meals to serve over noodles or rice.
Growing the Business
Oregon Seafoods' current output is growing, but it is still churning out a small portion of the pouch machines' production capacity. However, freezer capacity and filleting space are another concern entirely.
As the facility's production grows to meet its machines' capabilities, Babcock knows they will outgrow the physical space. "We're hoping this facility will last another two years," he says.
"Then we're hoping to rebuild or move into another facility."
And Babcock hasn't forgotten about the fishermen who supply the fish that keep his business afloat. He's committed to keeping his sourcing and production domestic. He says, "As our tuna fish production grows, so will our list of local fishermen."
Babcock believes that Oregon Seafoods and other businesses like it are part of a movement that will help stabilize local economies. Keeping the Oregon tuna — and the money its processing will generate — local is "vitally important to the communities here, and it's vitally important to Oregon, and that's our hope and dream and drive."