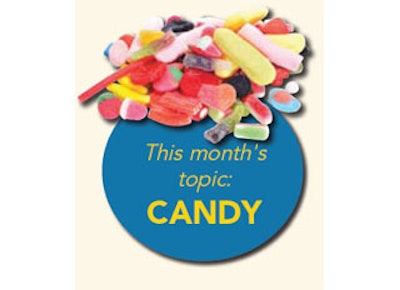 This article originally ran in the April 2013 issue of Food Manufacturing.
Robots have been commonly installed in the confection industry with great success for palletizing and secondary packaging applications. Recent advancements over the last few years in robotic technology, however, coupled with more challenging production demands facing candy manufacturers, have a caused a trend of robots migrating further up in the processing line.
One major development is the appropriate and growing interest to provide ultra-sanitary environments in all phases of the production process. The emergence of washdown models of high speed picking robots, for example, have allowed many candy makers to install robots in raw product handling and primary packaging applications, while moving members of the labor force to other areas of the operation.
Though the recent salmonella scare at a Midwestern chocolate manufacturer appears to have been a false alarm, it is reflective of the uncertainty that can exist when product is exposed to humans during the production process. No matter what precautions are taken, humans are, after all, human, and foolproof hygiene practices and early detection of some sicknesses are just not possible. Robots that can be thoroughly cleaned after each shift provide levels of sanitation that are not possible through other means. Robots also do only what they are programmed to do — no picking of product off the ground or enjoying a quick snack.
In addition to picking and placing applications there are numerous examples where robots are actually part of the production process. A chocolate plant recently installed an ABB robot to handle the molds for hollow chocolate figurines, while another customer is using a robotic dispensing system to decorate a vast array of seasonal candies.
Overall performance attributes and advancements in vision guidance and programming simplicity are additional factors that have furthered the penetration of robots in confectionery operations.
The speed and agility of the Delta style robots, like ABB's FlexPicker, simply cannot be matched for handling a high volume of small items. The FlexPicker can make 120 individual picks per minute; but with sophisticated vacuum end arm tools that are now available multiple pieces can be picked in one move, achieving per minute pick metrics of several hundred with just one robot. And the vacuums can be precisely calibrated to exert just the right amount of force to pick delicate products with absolute integrity, like just-made chocolates and marshmallow based candies.
The emergence of vision technology has added greatly to the viability of robotic systems in the candy business. Vision allows the robot to see and pick items coming down the conveyor in a random and scattered fashion, and where necessary, reorient them properly to fit within whatever packaging they are to be placed, be it primary or secondary. Vision also helps with quality control as robots with vision are able to recognize defective products, letting them pass to the scrap heap, assuring product uniformity with little or no manual oversight.
Software systems like ABB's PickMaster 3 make it easy to integrate vision systems of widely varying sizes. PickMaster 3 can operate a system with one digital camera and one or more robots, or integrate up to eight cameras with eight robots and multiple conveyors. While there is no need to add unnecessary complexity, a highly effective robotic system can be designed to handle some of the most challenging packaging scenarios found in the confectionery industry.
Of all the factors that have led to the growth of robotics in candy manufacturing, the biggest is the recent work by robotic companies to develop software that reduces programming complexity and create an intuitive human machine interface for production operation. It is this development, more than any other, which has allowed manufacturers of all sizes to install and operate robotic systems more easily than ever before. The growing group of robotic system integrators that specialize in food applications can have robotic systems up and running in matter of weeks from system design to full commissioning. Once in operation robots provide manufacturers the ability to run an array of different products, in differing packaging configurations, allowing a line to go from a six count of one flavor to a twelve count variety pack, or from Halloween to Christmas candy, with little more than a flip of a switch.
The decreasing cost of robots and their low maintenance relative to other types of equipment have brought us to the veritable tipping point for robots in candy and other food related businesses. Complete paybacks in two years or less are now the norm.
And the people who are redeployed with the emergence of robots? More often than not they find themselves in more rewarding, safer jobs, in large part funded by the production efficiencies and competitive advantages that the robots have provided.
Rick has 30 years of experience in engineering, application development and management of robotic based automated systems, with significant experience in sanitary robotic automation applications in the FDA, USDA meat and USDA-3A dairy environments. Today Rick manages the robotic based automation for ABB in the US consumer industry market, including the manufacturing and distribution in food, beverage, chemical, pharmaceutical and medical device industries.