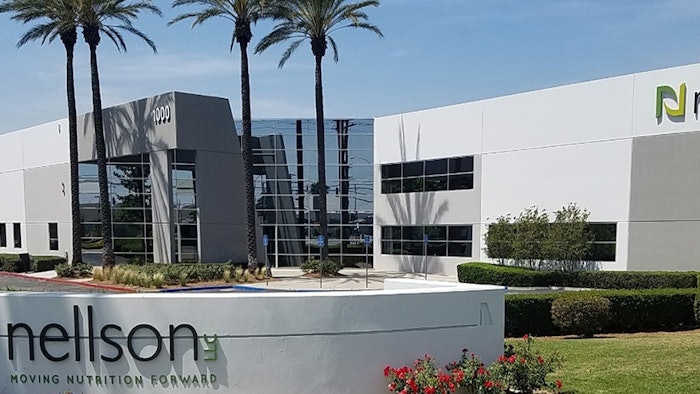 On a sunny Southern California day in mid-March, Nellson LLC officially opened the doors to its new nutrition bar manufacturing facility in Ontario, California. The 300,000-square-foot plant represents an investment of more than $70 million by the company, which is a leading contract manufacturer of nutritional bars and functional powder products, and positions Nellson for continued success in a segment of the industry experiencing consistent growth.
The Ontario facility replaces Nellson's bar manufacturing operation in Irwindale, California — which will close later this year — and joins a pair of Canadian plants located in Quebec in the company's bar manufacturing footprint. Nellson's operation also includes powder production facilities in Salt Lake City, Utah, and Anaheim, California.
"We think the plant is going to be a source of significant growth for Nellson in the years ahead," Nellson CEO Jamie Better said during a recent interview with Food Manufacturing. "It promises to do for us, exactly what we set out to accomplish when we made this commitment."
While Nellson initially considered retrofitting and renovating the Irwindale facility, Better said there were six key factors that ultimately led to the decision to go with a new plant in Ontario.
"First, we wanted to install the same manufacturing technologies we have in our East Coast facilities so we could easily move volume back and forth and truly operate as one network in accordance with our customers' desires to optimize distribution costs and create redundancy, which is important to our customers, as a lot of them partner with Nellson exclusively for their manufacturing needs. They like the concept that we've got multiple plants with the same technology that can produce their products in a very consistent manner," Better said. "The second factor was that we needed to modernize and drive down our costs. Our Irwindale facility is a more manual operation, and is spread across a couple of buildings which results in higher cost. We saw this as an opportunity to get those costs down so they're in line with those of our eastern facilities.
"Third, and this was very important, we wanted to segregate our production lines for maximum food safety, allergen segregation and customer confidentiality. As in our eastern facilities, the production lines in Ontario are essentially plants within a plant.
"Next, we wanted to add growth capacity to ensure that we can accommodate our customers' needs now and into the foreseeable future, in an industry that's been growing quite rapidly. Fifth, we wanted to install some new technologies, as well as the space to work collaboratively with our customers in the commercial development of new products and formats that currently don't exist in the marketplace.
"And lastly, we wanted to provide our employees a world-class working environment. We're proud of what we have created in Ontario, and the feedback from our employees has been excellent."
Employees And R&D Key
Employee retention — and making sure the institutional knowledge of Nellson's experienced employees remained in-house — was a critical aspect involved in the decision to relocate to Ontario, which is approximately 20 miles from Irwindale.
"When we decided that we needed a new facility, we basically designed our idealized site on a piece of paper and then we went looking for a building that aligned with that vision. And as we did so, we only searched within a 30-mile radius of our existing plant in Irwindale because we wanted to retain all the bar-making expertise that we'd accumulated over the last few decades of manufacturing nutritional bars," Better said. "Our view was that anyone can buy new equipment, but understanding how to run it, how ingredients interact with each other, over what time period and what temperature, and what can be manufactured efficiently and effectively at scale requires skills that take years to master."
During a media event held in connection with the opening of the Ontario plant, Nellson SVP of Commercial Development Bart Child said that more than 80 percent of Nellson's Irwindale plant employees will be making the move to the Ontario facility. Child added that many of those employees will also be receiving new skills training — specifically in automation and engineering.
All of Nellson's food scientists, technicians and support staff from Irwindale have transferred to Ontario and will be working in a state-of-the-art research and development lab and customer collaboration center — a key component of the Ontario operation.
"As long as we've been in the bar manufacturing space, we've also been in the bar development space," Child said. "And one of the keys for me, specifically, was making sure that we were close enough to Irwindale that we retained all of our R&D talent."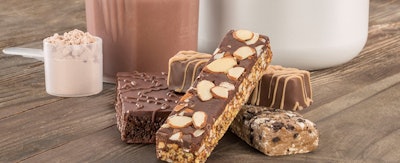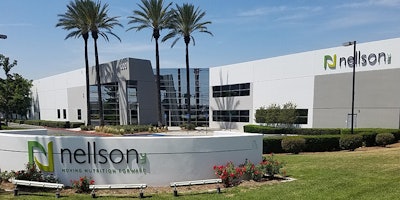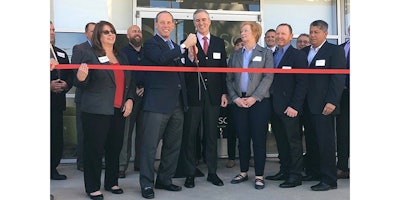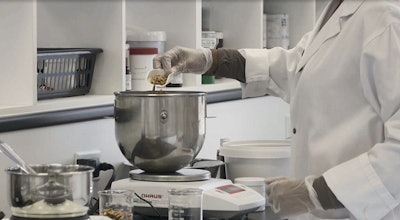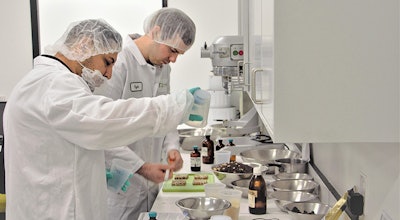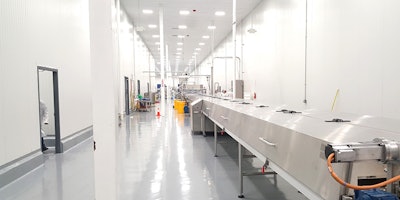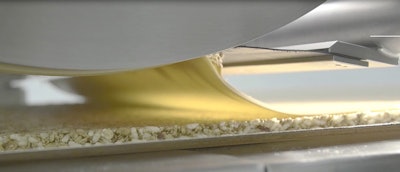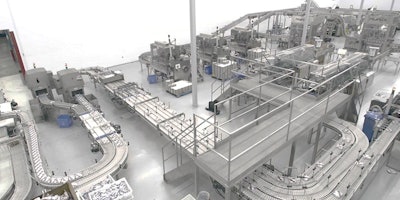 Child added that the Ontario facility will serve as a "center of excellence for bar manufacturing and R&D." The R&D lab, which has access to more than 2,000 custom formulations, features an in-lab commercial scale-up line and dedicated work stations where customers can co-develop products with Nellson personnel on-site, thereby increasing speed to market.
"R&D is critical in an industry that is growing more competitive, where product lifecycles are compressed and customers and consumers are continually looking for what's new and innovative, and I think that Nellson enjoys a well-earned reputation for its commercial development expertise," Better said. "Occasionally a customer will come to us because they've outgrown their current manufacturing partner, and they'll bring us a formula that is ready to go. But more often than not, they come to us with an idea and product parameters for new products they would like to introduce, and our 40-plus food scientists and technicians, who bring in excess of 200 years of cumulative bar-making expertise, are able to quickly develop dozens of prototypes that bring those ideas to life in the lab, while knowing from the start that those concepts will work in a scaled manufacturing environment and be cost-competitive. In the Ontario facility, we have a lot more development space and equipment that enables us to rapidly prototype."
That focus on R&D also helps Nellson quickly adapt to emerging trends in the nutritional bar space in order to meet its customers' needs — whether that's developing new types/shapes/sizes of products, incorporating new ingredients such as alternative proteins (think pea, brown rice, potato and pumpkin) adding functional benefits or reducing sugar content.
"One of the things that I think is interesting about food is, it's a little bit like fashion — what is old, is sometimes new," Child said. "One of the things that we've seen, specifically as it relates to some of the old processing technologies of extrusion and co-extrusion — they're making a comeback. So one of the investments that we've made in Ontario is investing in a piece of equipment that we saw over in Europe that was doing something very different for the baking industry, and we modified that over the course of the past year to be able to work in our environment for cold-form bar technology. What that means for our customers is we [now have the ability] to do different shapes and sizes. We're going to be able to create very fluid centers that are creamy in texture, and then put coatings of seeds and nuts on the outside that create a very different eating experience compared to the traditional extrusion, which typically was dough-on-dough. We've got a lot more range of capabilities with this new equipment.
"In addition to that, this new equipment will allow us to [produce] shareable and snackable bites. One of the things that we're seeing as a trend in the industry, is a concept in nutrition of being able to reach into a bag and actually take [out] nutritious products. We believe that there is an opportunity for us in this bite format to be able to bridge the gap between savory and sweet, which has been something the industry has struggled with for years. So we're very excited to get this technology on-line."
Child said the Ontario facility will also feature multi-layering process technology, which will allow for the production of new and unique bar products.
"It's the only [Nellson bar manufacturing facility that] has the capability of putting three base layers and four topical layers on a product," he said. "Think of this as being able to produce a seven-layer bar in this facility, which is an exciting thing for us, as it [enables Nellson] to create and offer different textures, as well as nutritional differentiations, because we can put different levels of nutrition in different layers. It also allows us to [use] different types of coatings and toppings for visual appeal and unique texture."
The Operation
Better described the Ontario plant design as a building that is "approximately twice as long as it is wide." That layout supports segregated production lines that run in a straight line, something that is unique within Nellson's bar-making operations.
"It's certainly different than what we have in our other locations. As the technology evolved and we added more equipment, we were largely confined within the envelope of the buildings that we had. So a lot of the higher-speed lines we installed in our eastern facilities had to be installed in a U-shape," Better said. "But when we conceived a new facility, we laid out an idealized plant with raw materials arriving at one end and straight production lines all the way through to finished goods at the other end, and that creates some manufacturing efficiencies. That's a real luxury because your machine speeds are dictated to some degree by the length of your cooling tunnels, and so by having these long runs in a straight line, we can run very fast."
And that's on top of the benefits of the segregated production layout mentioned previously — food safety, allergen segregation and customer confidentiality.
"[Our brand partners] wanted to be able to come to our plant and know that when they are launching a new brand on-shelf, that there isn't a compromise in brand confidentiality," Child said. "One of the strict policies that we have, is that we will not let other customers in an area where we are producing for a brand that has not been on the shelf or that has a new product launch on the shelf. Our segregated lines allow us to control that. We could literally have multiple customers in the plant at the same time and they would never see each other, nor would they see the brands or products being produced.
"The other critical thing that our [brand partners] told us is, that because of the heightened concern around allergen control, is that we needed to create an environment that really contained those allergens and ensured that there wasn't going to be any cross-contamination. For us, what that meant was setting up [production] lines which are literally plants inside of a plant. Each line is independently controlled — they have their own service systems including air, heat, cooling, water [and] electricity. If there's an issue with [one] line, it doesn't impact [any other] line…
"Last but not least … we wanted to make sure we would have an efficient line to sanitize. Customers are constantly wanting new products, and our ability to changeover [production lines] very quickly is important for them in order to not only reduce costs, but to be able to respond to the demands and needs of the marketplace."
The Ontario facility also features some innovations on the packaging side of the operation, specifically as it relates to pack-out capabilities.
"We have one [production] line that will be able to produce the same formula into multiple pack-outs from front-to-back, all the way through," Child said. "So what that means for our brands is that if they have [a formula with] a 12-count or a six-count [package], we're able to run those at the same time with the same formula and package it out with different pack-outs, different case arrangements, and [we can palletize] without having to do a changeover. So this reduces our cost and allows us to become even more efficient in responding to differentiation of packaging needs in the marketplace.
"Another exciting thing about that, is that we have a line that will have the capability of doing multi-serve pouches … meaning that [consumers are] going to be able to eat bite-sized pieces or mini-bars out of a bag rather than a traditional flow-wrap and carton like what you typically see today."
As for tomorrow and beyond? Nellson left plenty of room at the Ontario facility to accommodate future growth.
"We have more than enough capacity to serve our customers very well over the years ahead, and we do have some expansion space within the four walls of the facility where we could add additional production equipment if the need arises, some of which we already have in our possession," Better said.
Given the year-over-year growth in the category, and all the Ontario facility offers, that's something Nellson is counting on.
"There is a tremendous amount of enthusiasm on the part of our customers and prospective customers," Better said. "They have been patient through our transition and can't wait to come and see the Ontario facility and explore new opportunities."