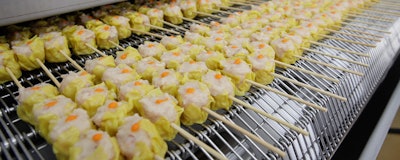 In mid-March, I attended a press trip in Thailand, hosted by the Thailand Board of Investment. About 70 other trade publication editors and I were shuttled around to various manufacturing and logistics facilities in the Bangkok area and southern coast of the country.
One of our visits was to CPRAM — the largest producer and distributor of ready-to-eat food in Thailand. As a subsidiary of CP Group, CPRAM's product categories include: frozen-ready meals (49 percent of total); buns (34 percent); Suimai (14 percent) and rice ball & sushi (3 percent).
During our stop at CPRAM's Chonburi Province location, we were given a presentation about the company and a tour of its innovation center and production plant. Due to the size of our group, we were unable to walk through the actual food production area, though we were able to view it from above through a series of observation windows. CPRAM's Chonburi location was opened in 2013, and its state-of-the-art operation did not disappoint.
CPRAM is considered to be the first company in the ready-to-eat food market that applied a warehouse automation system. Including Chonburi, the company has five active factory locations. CPRAM plans to expand three of those facilities and add two more locations to meet its goal of increasing sales by as much as 15 percent per year by 2023.
Here's a look at what we saw during our visit: