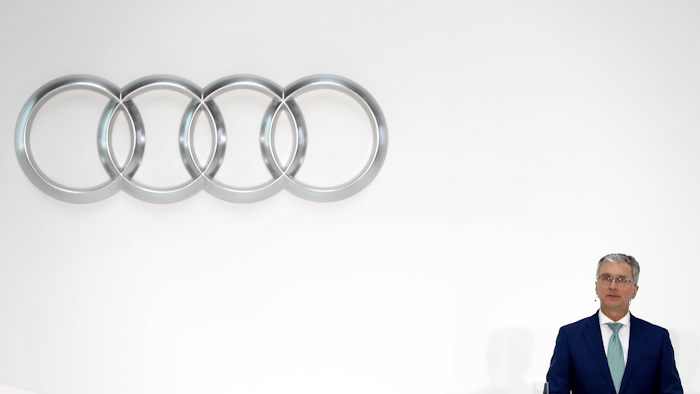 The arrest of the CEO of Volkswagen's Audi division is another milestone in the German automaker's three-year scandal over diesel emissions cheating.
Rupert Stadler, who was detained in Germany on Monday, is the highest-level executive at Volkswagen to have been arrested since the scandal erupted in 2015. While he has not been charged with wrongdoing, prosecutors said there was a risk he might try to flee and should be held until the probe into emissions manipulation is complete.
His detention stems from one of several investigations into Europe's largest automaker, whose scandal has reshaped public perception of diesel engines.
___
Q: When did the investigations start?
A: In September 2015, the U.S. Environmental Protection Agency said Volkswagen had installed software on more than 475,000 cars that enabled them to cheat on emissions tests. The software reduced the emissions of nitrogen oxide, which can hurt people's health, when the cars were placed on a test machine but allowed higher emissions and improved engine performance during normal driving. A few days later, Volkswagen said about 11 million diesel vehicles worldwide were fitted with the deceptive software. CEO Martin Winterkorn resigned, saying he took responsibility but insisted he personally did nothing wrong.
___
Q: How did the U.S. investigation affect Volkswagen?
A: The company has paid some $20 billion in fines and civil settlements. It has also pleaded guilty to criminal charges in the United States and nine managers, including Winterkorn, were charged there. Two are serving prison terms; Winterkorn and the others remained in Germany and are unlikely to be extradited. U.S. authorities said in May that they were still investigating the case.
Volkswagen sales have held up, in part thanks to an economic upswing in key markets. Last year, its sales hit a record of 10.74 million vehicles.
But public perception has turned against diesel engines, with Germany giving cities the right to ban them and major European countries setting targets to phase out the use of combustion engines.
___
Q: How did Volkswagen's scandal play out in Europe?
A: Several investigations were launched, mainly in Germany, Volkswagen's home country.
The case also put a spotlight on European emissions standards, which are less stringent about nitrogen oxide and tougher on emissions of carbon dioxide, which is said to lead to global warming.
The heightened scrutiny on emissions revealed that other companies also sold cars that polluted far more during regular driving than during testing, although not necessarily using the same illegal methods that Volkswagen did.
Prosecutors in Braunschweig, Germany, investigated Volkswagen's use of the cheating software on two specific diesel engines. They fined Volkswagen $1.2 billion last week. The probe will be closed as soon as Volkswagen pays the fine, as it has said it will do. But prosecutors' criminal investigation of Winterkorn and 48 others continues.
___
Q: What does the Audi investigation involve?
A: Prosecutors in another Germany city, Munich, are handling the criminal case against Audi, which is based in nearby Ingolstadt.
A total of 20 people are under suspicion in the Audi probe, which focuses on cars sold in Europe that were believed to be equipped with the cheating software. Stadler's detention follows a search last week of his private residence, in the probe focused on suspicion of fraud and indirect improprieties with documents. Audi said that it couldn't comment further due to the ongoing investigation, but stressed that "the presumption of innocence remains in place for Mr. Stadler."
___
Q: How big a blow is the Audi CEO's detention for Volkswagen?
A: That will likely depend on whether Stadler is charged with wrongdoing. That would be a symbolic blow at the very least, as Volkswagen's new CEO, Herbert Diess, just recently showed his confidence in Stadler by confirming him the head of the unit in a big reshuffle in April.
That could cast doubt on Diess's stated goal of fostering a new, more transparent corporate culture to avoid any new cases of cheating.
___
Q: Are other investigations going on?
A: In addition to the mentioned investigations of Volkswagen and Audi, prosecutors in Stuttgart are looking into possible diesel emissions manipulations at Porsche, which is also part of Volkswagen and is headquartered in the southwestern city.
In April, Stuttgart prosecutors said they had taken one person into custody following raids at 10 locations. The probe is aimed at an unidentified Porsche board member, another member of its management and a third person who is no longer employed by Porsche.