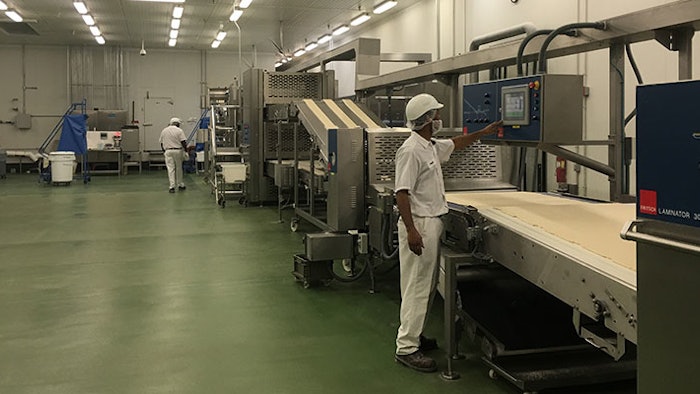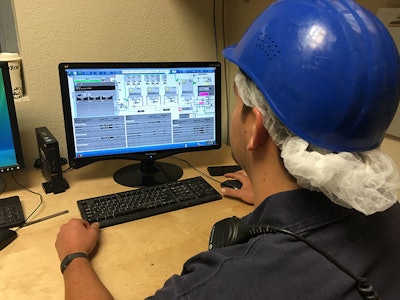 Bread is on the menu of nearly every restaurant. Sandwich makers, for instance, roll through millions of cases of bread each year to keep profits rising.  
But the business of bread-making can be complicated. Behind the scenes, industrial food manufacturers such as Southwest Baking Company, which is based in Tolleson, Arizona, produce more than two million cases of bread annually to keep sandwich makers and other restaurants in business. 
The Southwest Bakery bread-making process begins in raw material receiving, where ingredients like flour, yeast and salt are stored in holding bins until transferred into the batching system. The batching system draws the raw materials from holding bins into an industrial mixer where ingredients are combined. The mixture then moves into production where the bread product is formed and frozen, before being packaged, palletized and shipped to distribution centers. 
Challenge
Southwest Baking was restricted by an outdated, proprietary batch system that only ran one batch every eight minutes. This kept the factory at only 85 to 90 percent capacity, based on the production power of their machinery. Additionally, the company was experiencing five-to-six hours of downtime per month at a cost of thousands per hour. Sometimes a downtime event would last up to a full day or more while a lone programmer tried to fix the problem. 
"When the programmer left the company, knowledge of the system left with him," said Robert Wroblewski, plant engineer, Southwest Baking Company. "Our employees didn't know how to operate, leaving us to wait hours for outside support when issues occurred."
The proprietary platform was not scalable, so Southwest Baking couldn't expand process lines for future growth. "Beyond scalability, we'd continuously run into situations when new equipment needed to be added or the procedures in our batch process had changed, causing us valuable time re-programming, starting up and testing before run time," said Wroblewski.
In addition, the company's outdated platform had limited reporting capabilities. Reports were restricted to pulling in data from raw materials receiving. The reports were not consistently collected or accurate. Operators had to manually gather the data at various intervals in the process, leaving room for human error. The system also could only store a few days of data.
Southwest Baking required an easily supported batch solution that was sustainable over the long term and could accurately track and report critical process data.
Solution
Southwest Baking collaborated with ECS Solutions Inc. — a Recognized System Integrator in the Rockwell Automation PartnerNetwork program — to help design and implement a replacement for the limited legacy system.
After assessing offerings from a number of vendors, Southwest Baking and ECS Solutions chose to standardize on a flexible, batch recipe management system leveraging FactoryTalk Batch software from Rockwell Automation. The company upgraded its control system to Allen-Bradley ControlLogix controllers with an advanced HMI interface and process historian.
"With the new system, we can finally add, change or expand processes as we need," said Wroblewski. "Our improved flexibility and the associated cost savings alone, helped pay for the system in just one year."
In addition, the new system complies with S88 standards, allowing operators to more easily make modifications to batch procedures and changes to controller codes.
Enhancing operator functionality, the updated platform enables operators to perform maintenance and troubleshooting without tapping outside programmers. Intuitive displays make the system easy to operate and increase insight to the full batch process.
As part of the new solution, Southwest Baking now has a visualization, analysis and reporting portal, allowing operators to view batch process trends — such as material usage, balance of ingredients and delivery accuracy — and easily make adjustments to recipes when needed. The new historian collects nearly 200 data points and can store years of data.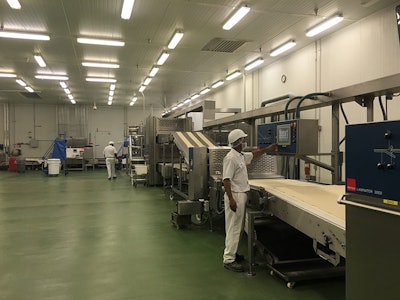 Results
Southwest Baking wanted a reliable system with local support to help increase batch consistency across the facility. The company not only achieved this, but exceeded it.
Since implementing the new batch solution, Southwest Baking increased production by 5 percent — roughly 10 pounds of dough per minute and an additional 400,000 cases of bread per year.
In addition, the company reduced its cycle time by more than 20 percent, meaning it can run more batches in the same time frame. "With our old system, we were running eight batches every hour. We now run 10 batches an hour," said Wroblewski.
Downtime is virtually a thing of the past. Southwest Baking has reduced downtime from an average of one hour of downtime per event to a couple of minutes of downtime per event.  
The new batch system empowers operators at the plant level to respond to system errors when they arise. "Our operators are now the first responders at our facility," said Wroblewski. "They understand the software, and have direct insight into the process. In fact, nine times out of 10, they know how to fix the issue themselves — and if they don't, local support is a phone call away."
Additionally, the improved information and reporting accuracy helps the company maintain consistent recipes and reduce the amount of wasted ingredients.
The company is no longer limited in flexibility. The scalability of the batch platform allows for additional process lines to be easily integrated and the overall baking process to grow with the company.
The results mentioned above are specific to Southwest Baking Company's use of Rockwell Automation products and services in conjunction with other products. Specific results may vary for other customers.
Trademark Information: Allen-Bradley, ControlLogix, FactoryTalk and PartnerNetwork are trademarks of Rockwell Automation Inc.