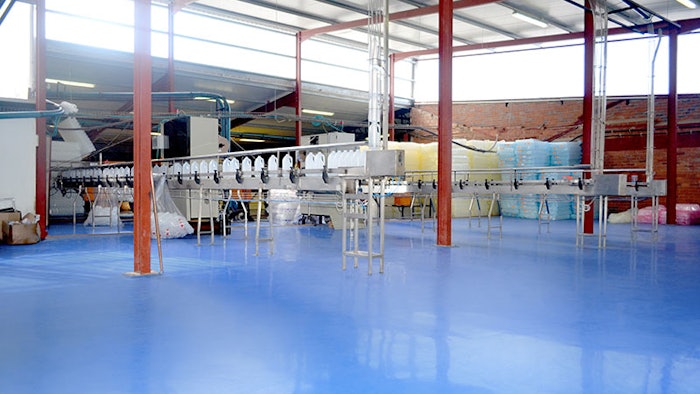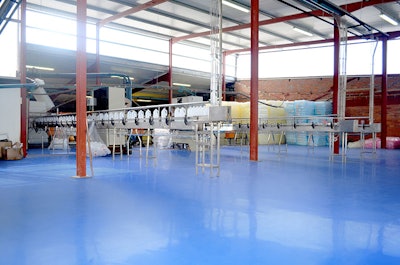 The floor area within a dairy facility needs to be carefully designed in order to create a safe environment that will reduce the risk of falls, injuries and illness while increasing the comfort level of the cows and the operational effectiveness of the site.
The floor finish can have a serious impact on the mobility of the cows and on their general levels of comfort and health, particularly with regard to the spread of foot infections. As the well-being of the cows affects the amount of milk they produce, getting this aspect of the facility right can have a significant impact on the dairy's overall productivity.
Liquid from dung, cleaning fluids, milk spillage and many other sources is a primary concern that the floor needs to help tackle, otherwise substantial excess liquid can remain onsite. Liquid and slurry ponding is a serious hygiene concern as it is a source of infectious illness, and cattle standing in wet conditions can contribute to hoof horn softening.
Laying the floor to a fall, having a thorough cleaning routine, incorporating effective drainage and carrying out routine scraping is all critical to keeping the surface clear of slurry and ensuring that all unwanted liquids and substances are removed from the area before it can stagnate.
These are all especially important when coping with the large amounts of fecal matter that build up during milking, as blocked dung channels or long standing effluence pose exceptionally dangerous hazards. For example, failing to remove soiling around the cattle's feet and lower limbs can affect foot health and cleanliness levels, especially when manure is trampled into the cubicle.
These considerations mean that seamlessness is an important flooring quality, as it will make it easier to wash away contaminants, facilitate rapid draining, cut down on trip risks and provide a more comfortable surface for the cows to walk across.
The ability of resin flooring solutions to retain an impervious, joint free surface despite the challenging conditions within dairy environments has made them a popular choice among dairy operators. As resin floors are poured or troweled in-situ, it removes the need for grout lines, which can provide germs with difficult-to-clean hiding places.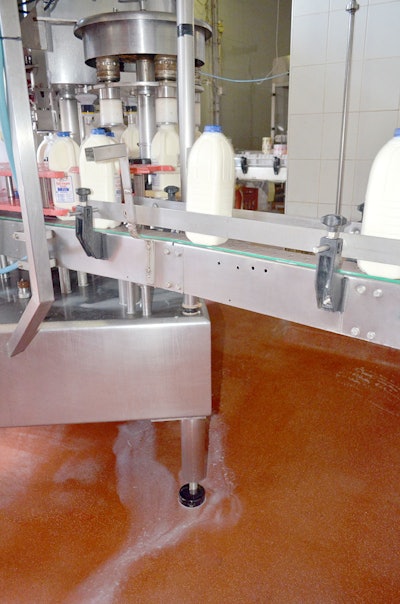 Of the different types of resin flooring systems available, one of the most popular for dairy facilities is cementitious urethane. This material combines cement and water-based technologies to produce a very robust finish able to withstand dairy industry conditions for the long term. Antimicrobial additives can even be incorporated within cementitious urethane to further minimize the danger posed by bacteria.
The hygienic properties of the floor have to be maintained even after daily exposure to a long list of damaging and deteriorating factors, such as traffic from rubber boots, cattle and forklift trucks, heavy machinery, lactic acid spillages and intense cleaning routines. Failing to withstand these challenges can lead to the floor becoming wet, worn, damaged or uncomfortable, which can cause foot trauma and lameness.
Inadequate flooring will not only affect the movement of people, vehicles and animals but it could also cause a dangerous hygiene risk. Contaminants can accumulate within cracks in the floor and a broken surface will slow down the draining, cleaning and scraping processes, which increases the possibility of spoiled products, sick cattle, damaged reputations and a failure to meet regulatory requirements.
Unprotected concrete floors are particularly at risk of deteriorating, especially as hot water cleaning, corrosive chemicals and impacts can all eat into the surface layer. Broken, cracked, eroded or otherwise damaged concrete floors can easily cause abrasions on the cow's sole, leading to problems such as sole bruising, sole ulcers or even small wounds that can become infected.
Many dairies undergo cleaning sessions of 30-60 minutes after the milking. As there can be two or three milking sessions per day, just the cleaning alone can erode the surface layer and make a previously impervious floor porous and ineffective.
An advantage of cementitious urethane is its high cross-linked density, which makes it a good choice for areas that will be exposed to intense cleaning and corrosive chemicals. Cementitious urethane also has a highly effective resistance to thermal shock, which means that it won't crack when subjected to extreme temperature changes like hot water cleaning.
The robustness of cementitious urethane means that dairy farmers can subject it to heavy impacts without concern for its integrity. Should even further resilience be required, aggregates such as quartz sand, aluminum oxide and bauxite can be added to improve its strength.
Contamination isn't the only danger that can stem from excess water, as slippery conditions mean that the cows won't be able to sufficiently grip the floor. Old, worn concrete in particular can become smooth and slippery, leading to foot and leg injuries such as sole bruising.
Aggregates can be added into the mixture of a resin floor to enhance traction underfoot, creating an anti-slip surface at all times of year, even when the floor is covered in slurry. Coarsely textured surfaces are harder to clean than smooth surfaces, so the ease of cleaning needs to be balanced against the level of grip required.
Getting the floor finish right can have wider implications for a dairy farm than its impact on the cows and the facility's day-to-day activity, as it is a key element to meeting the Pasteurized Milk Ordinance's Grade A milk production standards as well as to implementing an effective HACCP food safety management program. Without meeting such benchmarks a dairy farm will be unable to assure authorities or end users of the quality of the milk being produced onsite.