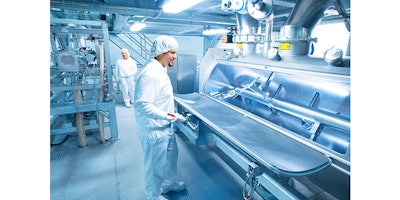 Many products in the food industry, such as instant beverages and soups, seasonings, baking agents and desserts, are mixtures of powdered solids. And they all place high demands on the blending process. Different raw materials have to be dosed and mixed thoroughly, free from dust and without contamination. Today's competitive environment adds further pressure, with manufacturers required to think of mixing as a part of a bigger picture. The goal is not just to disperse difficult-to-dissolve components without creating agglomerates or to emulsify oils without damaging the bioactive ingredients within. For every batch they produce, manufacturers must take into account their overall business needs and accomplish each step of the process faultlessly and in exactly the same way every time.
Blending drivers
Consumers expect consistent taste and appearance in their favored products, as well as a continual stream of diversity. If a product fails to meet consumer standards, they will quickly find an alternative. For manufacturers, this means focusing on quality, reproducibility and operational flexibility. To maintain taste results and consistency, a manufacturer's mixing system must be able to compensate for process changes and ingredient variability, both of which can impact on finished products. This requires state-of-the-art equipment, complete control over the production process and recipes, contamination prevention and full documentation of every batch that leaves the plant. Good mixing strategies not only make production more consistent and reliable, they also ensure that end products are safer and more likely to be pleasing to consumers.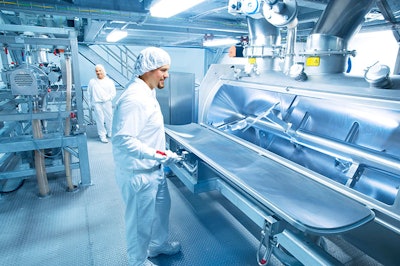 Outsourcing releases capacity
For smaller companies especially, and for manufacturers with a frequently changing product range, it is a challenge to install costly facilities or constantly update the relevant technologies. Increasingly therefore, companies are now choosing to concentrate on their core skills — whether these are in development, marketing or distribution — while the task of blending or filling products is outsourced to specialized firms. This reduces the volume of work and also releases capacity. In principle, contract manufacturers either clear the way for the customer's core activities or they take on the manufacture of products and quantities that cannot be integrated satisfactorily into the company's own production system. Particularly during times when there is a shortage of skilled labor, service providers can help to handle peak demand.
Compounding batch by batch
In order to be set up optimally for many different demands and varying products, many contract blending specialists rely on batch operation. Batch mixing plants have a high throughput because of their shorter blending times, and they offer maximum flexibility. With their peripheral speed and geometric shape, the mixer shovels lift the components from the product bed into the open mixing area. Counteracting the centrifugal force, they scoop material from the wall of the drum. Thus, the squeezing of particles between the wall and the mixing tools is avoided. A fluid bed is generated mechanically in this way, whereby all components are constantly involved in the blending process. This ensures maximum mixing intensity, but gentle treatment of sensitive ingredients like enzymes, flavorings and vitamins.
For instance, the correct blending of vitamins for use in juices is important. Here, even the smallest traces of excipients such as starch would cause cloudiness in the end product. Some producers of soft drinks blend several ingredients such as juice, flavorings, colors and sweeteners separately. Others take intermediate blends like compounds, which are standardized and easy to use. Manufacturers of instant drinks, for example, face the challenge of having to admix a large quantity of viscous liquids into the product without creating agglomerates. In this case, a contract blending expert can optimize recipes so that the mixing is uniform and results in a better texture. Liquid components can be sprayed onto the powder homogeneously through special nozzles. Such atomizing spray nozzles permit extremely fine dispersion of micro-components like flavorings, oils and emulsifiers with a high blending accuracy of up to 1:100,000. It is possible to create all manner of different formulations by varying the sprayed liquid. Thus, beverage specialties like "3 in 1" coffees that include milk and sugar can be made up in a single unit.
Food safety
Another big challenge for food manufacturers is that strict hygiene standards must be maintained at all times. It only takes one unclean machine to cause a potential recall of a product and destroy consumer trust in a brand. When processing powders, dry dust ranging from coarse to fine particulates is generated while the product is being conveyed or loaded. But vacuum conveying of powdered ingredients and aspiration systems ensure dust-free operation and help to avoid cross contamination: no dust escapes into the plant environment and no contamination can enter the system.
About SternMaid America
Contract manufacturer SternMaid America, located in Aurora, Illinois, offers the whole service chain from one source: ranging from blending of powdered foods and nutritional supplements to the purchase of raw materials, quality assurance, co-packing and delivery. From pre-mixes for use within the bakery sector to protein supplements for the nutraceutical industry, the company can mix different raw materials for various formulations. Visit the company's website at www.sternmaid-america.com