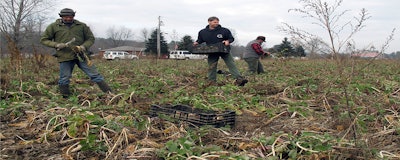 MONTPELIER, Vt. (AP) — Northeast farmers are anxious to learn what new federal food safety rules aimed at preventing foodborne illnesses mean for them, although many smaller produce growers will be exempt.
Representative from the U.S. Food and Drug Administration will meet with New England farmers on Monday in a regional meeting in Brattleboro, Vermont, to discuss the rules for such things as preventing contamination in fields containing manure to monitoring irrigation water. The heads of the Vermont and Maine agriculture agencies will also speak.
The meeting takes place a day before the start of the New England Vegetable & Fruit Conference in Manchester, New Hampshire, so organizers are hoping growers from around the Northeast will attend — though it's a busy time for farmers.
Frank Whittemore, an owner of Brookdale Fruit Farm in Hollis, New Hampshire, said the farm already abides by good agricultural practices to verify that the produce is safely produced and handled and thinks the new rules go too far.
"Those go so deep and so finite in some of the things that are included ... that it's pretty near impossible for an ordinary farmer to take care of them," he said.
The produce rule, which was revised from 2013 after farmers said they were too onerous, will be phased in over several years.
Jon Slason, farm manager at Harlow Farm in Westminster, Vermont, said the changes made by the FDA make the rule more palatable, such as allowing farmers to comply with USDA's National Organic Program standards for application of manure to fields and to continue to use wooden bins to collect and store produce instead of plastic ones. But he still has concerns about the expense and work of the irrigation water testing and how the overall rule will be enforced.
Smaller growers — those with an average of $25,000 or less in annual produce sales or less than $500,000 in average annual food sales over the last three years, are exempt from the produce safety rule, though some farms must keep certain documentation.
That has some smaller growers questioning whether they are at a disadvantage in the marketplace because they can't tell customers they're operating in accordance with the safety regulations.
"And so will buyers be concerned about that?" said Christa Alexander, president of the Vermont Vegetable and Berry Growers Association.
To offset that, the association is working with the University of Vermont extension service to develop a food safety accreditation program for farms that aren't going to be regulated by the federal rule, Alexander said.
"The goal is that then farms can use that with their buyers or with their direct customers or CSA (community supported agriculture) members or whoever it might be to say, 'hey we participate in this, you know we're taking these steps to ensure our food is safe even though we don't fall under the federal regulation," she said.
The FDA, which held a similar meeting Dec. 1 with representatives from Oregon, Washington and Idaho and has meetings planned in January in California and Florida, will also discuss two other rules, preventative controls for both human and animal food.