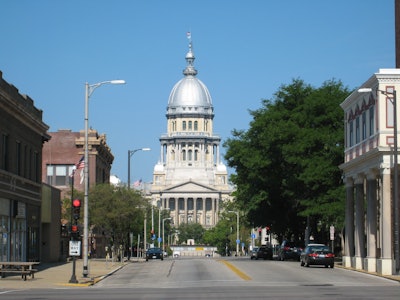 Daniel Goff, of Illinois' Department of Commerce & Economic Opportunity, understands some of his home state's perception issues as he works to bring more manufacturing to the region. However, he also understands many of the benefits that numerous global companies have realized in opening new production, distribution and sales offices in the Land of Lincoln.
One common perception of Illinois' business climate is the notion of paying high taxes. Goff rejects this by responding with data from the Anderson Economic Group's 2014 State Business Tax Burden Rankings that puts Illinois in the middle of the pack – 27th in the nation. Businesses in the state have a 9.8 percent share of pre-tax operating surplus. Oregon leads the country with a mark of 5.8 percent and Alaska carries the highest tax burden rating at 24.4 percent.
While 9.8 percent may seem burdensome, a slightly higher tax rate helps validate many of the positive attributes of manufacturing in Illinois, as well as other areas in the Midwest:
A solid infrastructure. Well-maintained roads and transportation portals allow for capitalizing on a centralized location for servicing both coasts by road, rail and air. This accessibility attracts businesses that might otherwise choose a coastal location for greater international access.
An established customer base for many industries, including machine tools, food products and biotechnology.
A highly educated and reliable work force.
According to Goff, these attributes, as well as intangible cultural elements, draw many European companies to the area. They see greater similarities to the Midwestern landscape than the coasts. Illinois has also established other programs to help offset some of the cost obstacles, such as:
Eliminating the sales tax on manufacturing equipment for manufacturers.
Taking more of a German approach to manufacturing growth, as opposed to those demonstrated in China or other Asian countries. "We invested in elements that position Illinois manufacturers for growth. Better transportation hubs, utilities and education systems bring organic cost savings," Goff states. Essentially, Illinois will never be a low-cost destination but the region can capitalize on the desire for quality-driven manufacturers to establish a U.S. presence.
Additional tax incentives that vary based on the size and scope of the new business.
The Department of Commerce and Economic Opportunity has worked hand-in-hand with prominent businesses across Illinois to help them facilitate connections overseas. Spanning four decades, business leaders from the Midwest and Japan have met on an annual basis to discuss growth opportunities and economic relations via the American Midwest – Japan Association.
Goff's department offers assistance in handling CE issues and language barriers, as well as in gathering market research on preferences, pricing and international site selection. Illinois is the largest exporting state in the Midwest and the fifth in the U.S., with exports of $66.1 billion in 2013. Looking towards the future, DCEO hopes to establish a trade program with emerging economies in Africa.
The combination of a positive financial outlook, proximity to one of the largest consumer economies in the world, and growing labor rates in Asia is providing the U.S. with an opportunity to attract and retain more domestic manufacturing. Programs like those being championed by the Illinois Department of Commerce and Economic Opportunity are helping to capitalize on such opportunities.