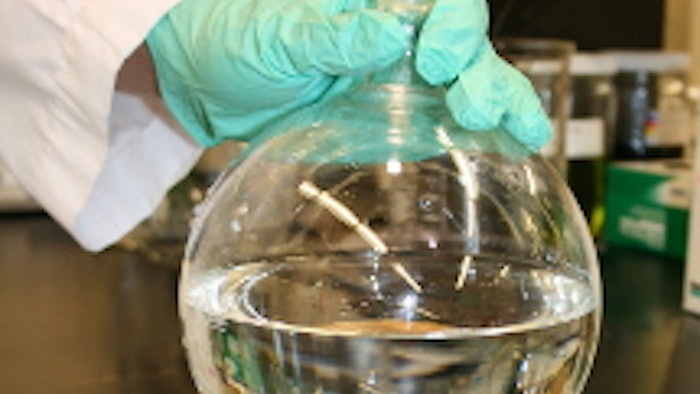 This final installment of a three-part series takes you inside Virent, (click here for part one with more company background, and here for part two, with more on Virent's work creating biofuels) to find out how they're harnessing the potential of renewable feedstocks to make high-quality chemicals of the future.
Ask Andrew Held if Virent is in a race to commercially produce bio-based polyethylene terephthalate (PET) before other companies, and he'll tell you without hesitation, "Yes."
Based in Madison, Wis., Virent is a biofuels and bio-chemicals company working to replace
petroleum in a variety of chemical products. And Held, Virent's senior director of deployment and engineering, says that plastics made using Virent's plant-derived PET could be just years away from arriving on store shelves — many in the form of bottles, thanks to an ongoing partnership with Coca-Cola.
But in some ways, the momentum to mass-produce PET is out of Virent's hands.
The raw materials used to produce PET are traditionally derived from petroleum. Among them is the chemical Virent churns out with its patented catalytic technology: paraxylene (or what BioFuels Digest has called "The Jesus Molecule" — as in, "Lord…grant me an affordable way to make one of those"). 
In addition to be turned into a resin used in plastics, paraxylene is also a key ingredient in manufacturing fabrics. In October, a collaboration of heavy-hitters in the plastics and polyester world — including Coca-Cola, Nike, Procter & Gamble, H.J. Heinz and Ford Motor Co. — all signed on to have "preferred access" to Virent's bio-based paraxylene once it's being commercially produced.
Many companies are interested in making their products more "green," and using a feedstock with less of an environmental footprint than fossil fuels.
Money, of course, has also been a driving factor in shifting away from the uncertain cost of petroleum— but economics also have a way of derailing those "green" intentions.
The biofuels market has looked rocky, but even with plummeting oil prices, Virent still sees high future demand for its bio-chemicals — they've recently added toluene, benzene and Aromatic 100 to their portfolio.
One market research report predicted that the growing global demand for PET would help make the share of bio-based PET production "rise astronomically in the foreseeable future." Another recent report revealed that the global bio-plastics market is estimated to grow at a compound annual growth rate of 28.8 percent between 2014 and 2020.
Here's more with Held on when and how Virent will get its paraxylene to market, and the role they'll play in the burgeoning green chemicals scene.
Where are you in effort to mass produce?
We need to run a design and construction project, and we're soliciting and securing partners. We have some sites short-listed for manufacturing. And in the U.S. we're favoring a Gulf Coast location, based on the significant infrastructure there.
W
as it your goal all along to give companies "preferred-access" to your paraxylene? We took a book-end strategy. If you want to take chemicals, you can talk to your neighbor in the supply chain and see if they'll buy it, or look at other companies in the industry and see who finds the most value in it. Brand companies like Nike and others are maybe in a better position to capture more profit. So we help people deploy the technology and then movers-and-shakers are able to implement the supply chain.
When could it be in stores?
That's an interesting question because of supply chain. So we make the paraxylene, then someone else makes the articles, bottles, clothes etc. Our goal is early 2018 for [mass production].
How much paraxlyene are you producing now?
We can take a daily rate and then estimate — so we could currently make a little under 10 tons if we ran production every day of the year. 
Do you think there's a growing demand for more environmentally friendly packaging?
Definitely. One of the things we like is that our chemicals are essential building blocks for so many different things. So we can use it in packaging or in various cleaning products. It can be used in numerous places. We're confident we will find interested parties who will want to try it.
Do you have a main competitor in the market?
If you take at the paraxylene space, there are other folks trying to make that, including Gevo. They have a different process and pathway for that. Another company, Avantium, is not making the same PET molecule, they're trying to make an analogue for the packaging market.
Are you in a race with them?
Yes. The competition is real. But we want some successes in our space. There have been a number of folks that have not been successful so far in our industry. You are competing, but at the end of the day you want people you can point to and say, "They are successful, so let's give this a fair shake."
What question do you get asked at Virent the most?
The overall industry is facing a lot of challenges, so a lot of it is, "Hey what are your prospects when oil is $50 a barrel?" That's tough for Virent. That's tough for everyone [in this industry], to be honest. But we're confident we'll be here for the long-term.