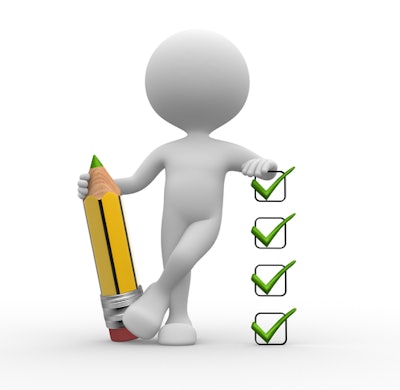 With the objective of better ensuring the American public's health and well-being, various federal regulatory agencies have sprung full-blown onto the business world's landscape. Most were inaugurated in the 1964-1975 period and have subsequently experienced both setbacks and resurgence depending on political winds. Outlasting their detractors, they remain solidly entrenched as either admirable crusaders or confounding obstacles, depending on individual businesses' perspective.
Not content with status quo, regulators have continued to implement new rules which often make compliance increasingly time-consuming and difficult. While the energy and chemical industries conjure up perceptions of the most regulatory-hit industries due to sheer size and scope, others face substantial regulatory issues.
Surprisingly, perhaps, many companies have yet to implement an effective system for streamlining compliance. Given the hard facts about agency demands, however, the issue is not that compliance actually can be simplified and systematized, it must be.
To achieve better approaches to regulatory compliance, decision-makers should understand both the overview and particulars of what the EPA and OSHA require. As if meeting general regulatory requirements are not already devouring a company's time and resources, regulated entities must essentially develop "plans within plans."
Environmentally, a Risk Management Plan (RMP) and Process Safety Management (PSM) program are tied to potential high-level chemical releases, so the related requirements are not applicable to companies in general, as are other air and water environmental requirements. However, in both cases, detailed plans must be developed and implemented to protect workers and the public from Highly Hazardous Chemicals (HHCs) and are subject to stringent on-site compliance inspections and potentially stiff non-compliance penalties.
One of the more sweeping actions involving a company is a Facility Environmental Audit to review the site or company's legal compliance status in an operational context. Another type of review is a Process Hazard Analysis, which is conducted to assess potential hazards with an industrial process.  As its name implies, it analyzes how to identify and correct any deficiencies in processes handling HHCs.
From demanding requirements to highly-detailed plan preparations, it is quite clear to regulated companies that compliance is no cake walk. Instead, it is complex and time-consuming, while draining resources that could be devoted to the primary objective of profit-making. What has also become clear is that the complexity not only should be simplified, it can be.
Yet, simplification is not an overnight process. However, there have been breakthroughs, with a major one being the online Continuous Compliance Monitoring System (CCMS). Instead of providing a comparable option to existing systems, CCMS changes the very methodology by which compliance is achieved. In doing so, the ideal outcome occurs: as regulated companies better understand and implement site-specific requirements with minimal cost and effort, they have the highest likelihood of staying in compliance. So, both the regulatory agencies' and companies' best interests are served.
As web-based software, CCMS allows companies to monitor compliance online, from when rules or regulations become applicable to the final phase of compliance. The key to simplifying the process is converting rules into tools which drive compliance instead of only demanding compliance. In other words, regulations are incorporated directly into the software and are both continually updated and readily available to users
No longer are searches necessary to locate rules with actionable items because the action items have become part of the applied rules. Notifications of rules or applicability changes are sent to designated compliance personnel to take action. A streamlining technique is also in place on the system. Tasks and frequencies can be edited to maximize both the program's effectiveness and flexibility.
In regulatory compliance, companies should never underestimate the importance of permits and site-specific documents. Through CCMS these are addressed in the same rule-based approach as the regulations. As a result, permit conditions are formatted by task, frequency and other coding to simplify compliance; just indicate to what they should be applied and whose responsibility.
On a related basis, companies looking for the best option(s) to extricate themselves from regulatory compliance complexities can also take advantage of one of the compliance industry's Routine Services Agreements. Through this arrangement, account managers skilled in compliance management can fully implement a site-specific program and handle requirements both online and on-site, from audit preparation to compliance task completion. This allows companies to focus on their core business and not be entrapped by the complexity of comprehending and complying with regulations.
If compliance were a novel, it would be long and exhaustively complicated but the Executive Summary would be short: environmental protection is a high government priority which is not going away. Yet, taking shortcuts is not the solution and can be costly for companies. Real, cost-effective compliance can be as close as the computer, which makes it refreshingly simplified.