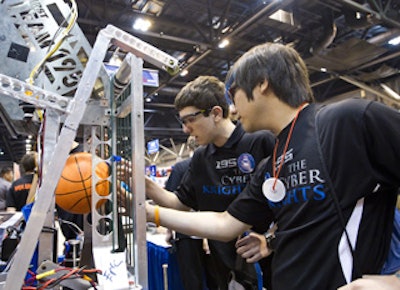 Last week, National Instruments announced it would continue its technology partnership with FIRST® (For Inspiration and Recognition of Science and Technology) through 2019 with a next-generation embedded robotics control platform code-named "Athena" for the FIRST Robotics Competition (FRC®). The partnership aims to create more scientists and engineers by fostering students of all ages — from kindergarten through the end of high school — in programs that inspire not only technical innovation, but also communication and business skills.
Ray Hsu, Academic Program Manager for K-12 at National Instruments, says, "At NI, we invest in STEM in a variety of ways — philanthropic dollars, volunteers and mentors around the world — but I think one of the most successful ways we can invest in STEM is to invest in the R&D in making technology that are specific to education, and that can make math and science come to life."
FIRST was founded in 1989 by Dean Kamen, perhaps best known as the inventor of the Segway transportation device. At its core, the organization aims to design education programs that give U.S. students opportunities to build their knowledge base while working on confidence and life skills. Today, more than 200 of the Fortune 500 contribute to FIRST, including National Instruments.
By leading students through a progression of engineering software that increases in complexity, Hsu believes students will be better prepared to not only get a successful STEM education in college, but make for better employees once they graduate. He says the partnership is "another multi-million, multi-year commitment from us to provide the latest technologies to the thousands of students who compete in FIRST."
By continuing the previous partnership through 2019, students involved in FIRST will be exposed to NI's LabVIEW system design software from an early age. The Junior FIRST LEGO® League uses software based around LabView software, as does the program for middle school-aged students. The current NI CompactRIO-based system for the FRC is also programmed using LabVIEW, and the next-generation Athena controller will be compatible with LabVIEW, C++ and Java. The donation from NI will provide FIRST FRC teams — both existing and "rookie" —with the new "Athena" robotics system.
Hsu was not ready to divulge all the details about the Athena system, as the company plans on detailing it, as well as the real-world controller on which it is based, during NI Week, which runs between August 5 and 8 in Austin, Texas. He was willing to divulge that it is not a CompactRIO, but is based on a LabVIEW RIO architecture. He says, "It is going to be smaller, more designed for this type of environment, and it will be faster and cheaper."
Hsu believes work with organizations like FIRST has already made inroads in improving STEM education and desire to pursue science- or engineering-based careers. NI itself is already starting to hire FIRST alumni, and Hsu says they're better prepared for the engineering world than those who didn't participate in the program. They're intimately familiar with LabVIEW, which helps them not only at NI, but also in countless other engineering jobs. Hsu spoke about one student he met at a FIRST event who said she had gotten accepted into MIT, along with other top-notch school, and had completed an internship at NASA, where older engineers would turn to her with questions about LabVIEW.
That kind of success is exactly what NI is hoping to gain out of its continued partnership with FIRST, and while there's a philanthropic element to the donation, Hsu says it's "a very strategic part" of NI's business. The long-term strategy means that in the future, there will be even more successful STEM students who have built-in familiarity with LabVIEW software.
Hsu says, "It's nice that here at NI, our founders 'Dr. T' (James Truchard) and Jeff Kodosky, both personally and through NI, are committed to improving long-term education, particularly in science and engineering. This is a real problem in this country. We see this every year at NI Week, when we see the amazing things that engineers do. They inspire us, as employees of NI. This is why we partner with FIRST."