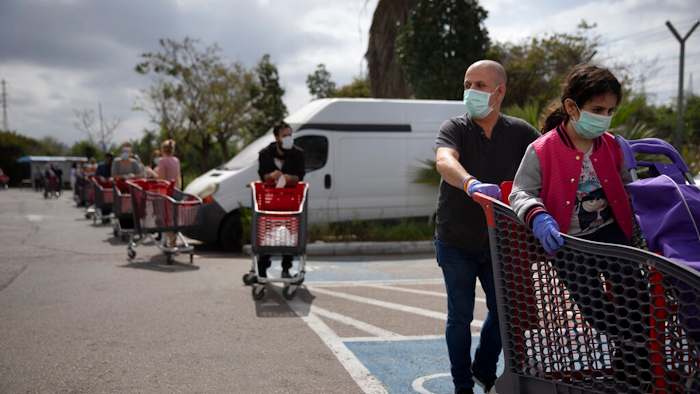 AP Photo/Oded Balilty
CUSTOMERS FIRST: The pandemic is sapping trillions from the economy and the ramifications for businesses, from banks to restaurants, is severe. Some companies have also recognized their customers are suffering and extended a hand.
— Allstate is sending shelter-in-place paybacks to customers, with most getting checks for 15% of their monthly premium in April and May. Auto and home owners customers with financial difficulties can delay two consecutive premium payments. Some will be allowed to pay what they can afford. The insurer is sending out $600 million to customers, according to a regulatory filing.
— JPMorgan Chase has done away with minimum payment requirements on credit cards and it's waiving late fees. The bank will not report payment deferrals, such as late payments, to credit bureaus for up-to-date clients.
JOBS FALLOUT: Few industries have been spared from mass layoffs, particularly manufacturers and restaurants devastated by social distancing.
— BJ's Restaurants is laying off about 16,000 workers. The casual-dining chain paid all hourly restaurant employees accrued, unused vacation and sick time, and gave short-term emergency paid time off to employees not otherwise eligible for sick pay benefits under state or local laws. BJ's expects to bring workers back, but may close a number of locations.
— Nissan is furloughing about 10,000 workers as it extends a production suspension until at least April 27. The workers won't be paid during the extension, a change from a shutdown in March when workers got their normal paychecks.
— Honda will stop paying its roughly 14,400 production workers in Ohio, Indiana, Alabama, Georgia and South Carolina as it extends a production shutdown through May 1. Workers are getting health insurance and other benefits.
— Thousands of Spirit AeroSystems employees are being furloughed for three weeks without pay. Most managers and hourly employees at Spirit, Wichita's largest employer, will be placed on unpaid leave Wednesday. Spirit has been hammered by problems at Boeing and its troubled 737 Max aircraft. Workers associated with the Boeing commercial program in San Antonio and in Tulsa and McAlester, Oklahoma, are the ones being furloughed.