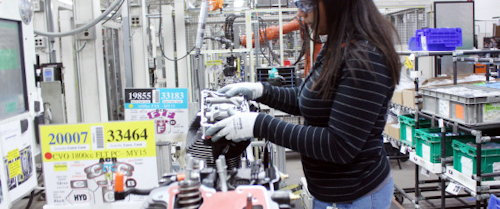 Donald Trump centered his campaign for president on a pledge to restore American economic dominance — particularly in manufacturing.

In the wake of this election last month, Trump was quick to highlight decisions by Carrier and Ford to remain in the U.S., but economists noted that those moves barely register amid a decades-long slide in the country's manufacturing workforce.

And those experts told The Wall Street Journal early this month that the bulk of those jobs likely aren't coming back.

"Manufacturing employment is now back to 1941 levels and falling," Parsec Financial economist James Smith told the paper. "This is a global trend and not at all specific to the U.S."

The Journal noted that since the U.S. manufacturing workforce reached its peak of 20 million in 1979, five separate recessions eroded those jobs while periods of growth were insufficient to make up for those losses.

The survey, which included a mix of 62 academic, business and financial economists, indicated that the country would add just 50,000 manufacturing jobs by the end of 2019 — a pace well short of the millions lost in recent decades.

Trump blamed trade deals — and, by extension, outsourcing — for the trend, but the bulk of the economists in the survey instead blamed better labor productivity.

In effect, the growth of technology allowed companies to produce more goods with smaller workforces, and rapid advances in machine learning, automation and robots threatens current and future generations of manufacturing workers.

Trump's vow to overhaul the nation's trade policies, meanwhile, could make things more difficult. The survey identified trade deterioration as the biggest current risk to the economy.

"Even if we manage to avoid a full-out trade war, our companies are now going to face more hurdles selling abroad," Diane Swonk of DS Economics told the Journal.