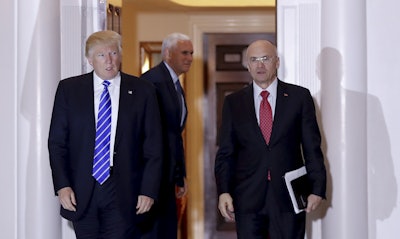 WASHINGTON (AP) — President-elect Donald Trump plans to add another wealthy business person and elite donor to his Cabinet, saying he would nominate fast-food executive Andrew Puzder as labor secretary.
Puzder heads CKE Restaurants Holdings, the parent company of Carl's Jr., Hardee's and other chains. In 2010, he published a book called "Job Creation: How it Really Works and Why Government Doesn't Understand It."
"Andy will fight to make American workers safer and more prosperous by enforcing fair occupational safety standards and ensuring workers receive the benefits they deserve, and he will save small businesses from the crushing burdens of unnecessary regulations that are stunting job growth and suppressing wages," President-elect Trump said in a statement.
Puzder, in the same statement, said he was honored "to help President-elect Trump restore America's global economic leadership."
The Californian was one of Trump's earliest campaign financiers, serving as a co-chairman of his California finance team and organizing fundraisers well before most major donors got on board with the eventual Republican nominee. Together with his wife, Puzder contributed $150,000 in late May to Trump's campaign and Republican Party partners, fundraising records show.
As one of Trump's most outspoken defenders, Puzder frequently appeared on cable news and Twitter to talk up the benefits of having a business leader in the White House.
A week after Trump's election, Puzder said he agreed with Trump's aim to ease business regulations.
"We've reached the point where overregulation is doing meaningful damage to our businesses," he said last month at the Restaurant Finance & Development Conference in Las Vegas, citing high labor costs, increased health care costs and "political and social" policies as hindrances.
Union leaders decried Puzder as a secretary who would look out for millionaires — but not workers.
AFL-CIO President Richard Trumka said in a statement that Puzder's "business record is defined by fighting against working people."
Incoming Senate Minority Leader Charles Schumer said there's reason to be skeptical about Puzder.
"Turning the Labor Department over to someone who opposes an increase in the minimum wage, opposes the overtime rule that would raise middle class wages, and whose businesses have repeatedly violated labor laws might be the surest sign yet that the next cabinet will be looking out for the billionaires and special interests, instead of America's working class," Schumer said in a statement.
Trump's selection won praise from the National Retail Federation, however.
"Andrew Puzder is someone with the real-world experience to understand workforce issues and how jobs are created," said David French, NRF's senior vice president for government relations.
Trump's recent appointments have reflected his desire to turn to business leaders — who also were campaign donors. Trump tapped former WWE chief executive and top campaign contributor Linda McMahon to lead the Small Business Administration. He also selected his campaign's national finance chairman Steven Mnuchin, a former Goldman Sachs executive and hedge fund investor, as Treasury secretary.
Puzder visited with Trump several times since the election, including a meeting Wednesday afternoon at Trump Tower.
He has long been a reliable GOP donor. He was a major financier for 2012 GOP nominee Mitt Romney and has remained close to him. At Romney's annual donor summit in June, Puzder was one of just a few attendees who aggressively promoted Trump to the dozens who were more squeamish about their party's new star.
He told The Associated Press at the Republican National Convention in late July that he enjoyed the challenge of raising money for Trump, saying he often sought common ground with reluctant GOP donors by talking up Trump's children.
"If he's such an evil villain," Puzder said he would tell would-be donors, "how do you explain the kids?"
AP White House Correspondent Julie Pace contributed to this report.