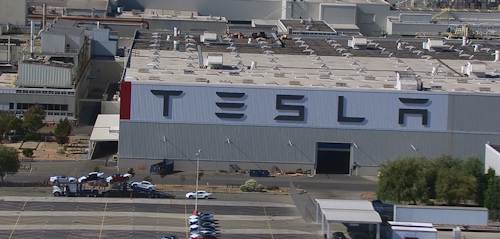 Numerous companies are reportedly abusing a federal visa program to in order to employ overseas contractors in the U.S. for improperly long hours and low wages.
The investigation by The San Jose Mercury-News details the saga of Gregor Lesnik, an unemployed electrician from Slovenia who was among dozens of eastern Europeans that helped expand a paint factory for Tesla Motors in Fremont, Calif.
Last May, Lesnik was seriously injured when he fell nearly three stories from the roof of the Tesla factory. He subsequently filed a lawsuit alleging that workers were sent to the plant six or seven days per week for months at a time and paid less than $5 per hour.
Critics told the Mercury-News that employers throughout the country routinely exploit the B1/B2 visa program, which allows foreign workers into the country for tourism or business purposes.
The B1 visa allows those workers to enter the country for supervisory roles. Lesnik's, for example, claimed that he would supervise a South Carolina auto plant, but he instead performed heavy manual labor such as welding or pipefitting in Fremont.
Lesnik originally signed up to work for ISM Vuzem, a subcontractor of Eisenmann, the German company hired by Tesla to expand the paint factory as it prepares to dramatically increase its production of electric vehicles.
Vuzem reportedly denied the claims in Lesnik's lawsuit, and both Eisenmann and Tesla said that they were not responsible for his employment. Tesla, in a statement, said it requires its contractors to "hire and pay their workers appropriately."
The problem, however, is not unique to Tesla, and the Labor Department told the paper that B1 visa is subject to "widespread abuse ... in the Bay Area."
In addition to apparent violations of visa and labor laws, critics argued that the practice helped companies unfairly win contracts over rivals that employ U.S. workers.
One local labor leader told the Mercury-News that California metalworkers — who earn up to 10 times what Lesnik and his colleagues were allegedly paid — likely lost tens of thousands of working hours and millions in wages.
"There's definitely something wrong with this picture," said Building and Construction Trades Council of Alameda County President Rob Stoker.