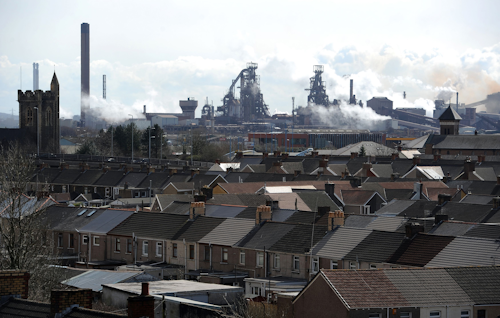 LONDON (AP) — British authorities appealed for time Wednesday to save the country's biggest steel maker after parent company Tata Steel said it couldn't promise to keep plants open while it seeks a buyer.
After a meeting at the company's headquarters in Mumbai, Tata's board said late Tuesday it would study all possibilities for restructuring the British unit, including selling it "in whole or in parts," because of the deteriorating performance of the business.
Koushik Chatterjee, an executive director for Tata Steel, said the UK business had become "quite a burden for the company."
"The view the board took finally was we can't sustain this kind of exposure," Chatterjee told the BBC. "So it's not about the bid being low or high. It's about someone being willing to buy the business."
U.K. Business Minister Anna Soubry said that the government is considering "all options," including management and unions participating in a takeover. When asked about nationalizing the plants, she said this would be difficult because of rules against state aid for business.
"We want to establish a good period so we can sell it on," she told the BBC. "That is our priority, to look for a buyer. But we are being realistic about the state of the industry."
Britain's steel industry has been hit hard by cheap Chinese imports, which have depressed prices, and manufacturers have asked the government and European Union to impose anti-dumping duties. Tata Steel, which operates the country's biggest steel plant at Port Talbot in south Wales, is losing 1 million pounds ($1.4 million) a day in its U.K. operations.
Some 19,000 people are employed by Tata across 14 sites in Britain, according to Len McCluskey, leader of the Unite union.
"This is the time for the government to say categorically, without hesitation, that these assets will be taken into safe-keeping by the nation, because without them our economy will not flourish," he said. "We are already seeing jobs going in the supply chain because of the uncertainty over Tata's future — our fear is this will snowball if insecurity is allowed to swirl around our steel sector."
Roy Rickhuss, general secretary of the Community union, appealed for a meeting with Prime Minister David Cameron.
"Tata Steel withdrawing completely from the U.K. risks destroying our entire steel industry," he said. "That would be a disaster both for those communities reliant on steel jobs and our entire industrial base."