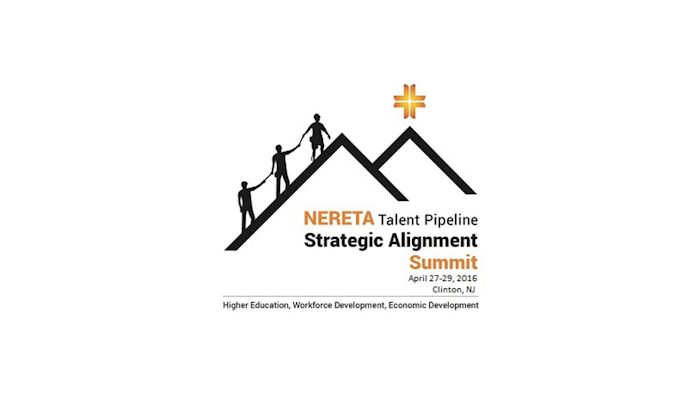 The North East Regional Employment and Training Association (NERETA) is holding a Summit on April 27-29 at the Holiday Inn in Clinton, NJ to help workforce development, economic development and higher education professionals learn how to collaborate in establishing manufacturing industry cluster strategies. Teams from regions all over the country are coming to this event. There is also an eight month post conference course (one webinar a month) offered for free to attendees by some of the most prestigious organizations in the country to support their efforts to grow manufacturing in their regions on a continuing basis through the end of 2016.
The first day of the Summit is designed to help "frame the issues." The morning session is dedicated to educating attendees about economic development issues and the afternoon is about workforce development issues.
The second day we are calling "brainstorming solutions" and it is a more traditional conference format with twelve different workshops available to attendees to provide best practices, tools/software available, etc. to help regions collaborate more effectively and pinpoint solutions that will address their specific needs
The third day of the conference, we will be providing a training session for the teams attending regions across the country on how to develop a collaborative strategic plan for their region ... concentrating much of that work on developing industry partnerships together. 
The academic of the Summit is based on the The Competitiveness Institute, an international association dedicated to cluster research and advancement. 
The list of speakers is astounding! Peter Cappelli from Wharton, Greg Leroy from Good Jobs First, Scott Paul from the Alliance for American Manufacturing, Joe Houldin from Delaware Valley Industrial Resource Center, (DVIRC), Eric Hansen from Economic Transformations Group, Inc. (ETG), MEP-NIST, the Department of Commerce, The Department of Labor, University Presidents ... the list goes on and on!
Some of the topics at the Summit include:
What are the barriers to growing manufacturing and what can we do about them?
Traditional vs. Progressive Economic Development
The future of work 
Is there really a skills-gap in manufacturing?
Public/Private Partnerships
Made in America Manufacturing Communities Act and Investing in Manufacturing Communities Partnership (IMCP) Program
Developing Industry sector/cluster partnerships
Higher Education collaboration to support R&D
and so much more.....
More Summit information can be found at the website: summit.nereta.org