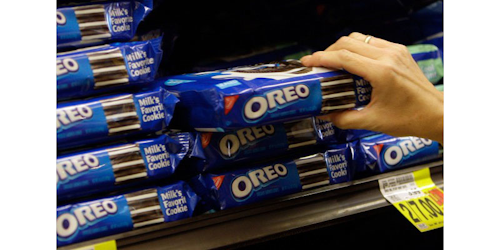 Mondelez will begin cutting about half its workforce at a Chicago plant next week as the presidential frontrunners tee off on the company for outsourcing.
Hundreds of job cuts at the facility, which dates to the 1950s, became inevitable after the cookie and snack giant chose to install four high-speed production lines.
Mondelez, however, became a target for outsourcing complaints in July when it chose to install the more efficient lines at a new plant in Salinas, Mexico, rather than overhaul its operations in Chicago.
Keeping the lines in Illinois would have resulted in 300 layoffs at the southwest side plant; instead, 600 jobs will be cut. The looming layoffs coincide with a labor standoff between the company and union workers at the Chicago plant and others.
Company officials assured critics at the time that the Chicago plant would remain open and "an important part" of its distribution network.
USA Today, however, notes that those claims haven't spared the company on the campaign trail, where trade issues rose to the forefront on each side of the presidential race.
Republican frontrunner Donald Trump previously vowed to boycott the company's ubiquitous Oreo cookies in the wake of the decision and, the week before Tuesday's Illinois primary, alleged -- inaccurately -- that the plant was closing altogether and moving to Mexico.
Likely Democratic nominee Hillary Clinton, meanwhile, mentioned the layoffs in a recent debate and vowed to force relocating companies to pay back local tax incentives.
Mondelez officials defended their decision and said that the Mexico plant is part of a broader production overhaul. The company added that the Chicago bakery would remain among its largest after the layoffs and said that Oreos, in particular, will continue to be made at several U.S. plants.
"Even if the investment would have been made in Chicago, there would have been an impact to positions at that bakery," spokeswoman Laurie Guzzinati told USA Today.