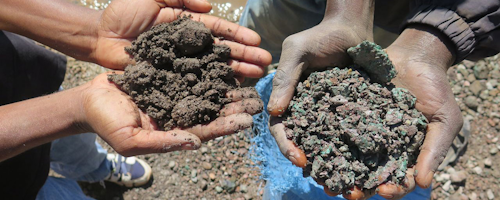 The supply chains of some of the world's most prominent technology and industrial companies likely include child labor, a new report from human rights groups alleges.

The report from Amnesty International and Afrewatch tracked the trade of cobalt, a metal that is a critical component of the lithium-ion batteries that power everything from smartphones to electric cars.

Investigators alleged that dangerous cobalt mines in areas of the Democratic Republic of the Congo — where at least half the world's cobalt is produced — routinely employed children as young as age seven.

Traders that purchased cobalt from those mines sold the metal to Congo Dongfang Mining, a subsidiary of China's Zhejiang Huayou Cobalt.

Three battery component manufacturers in China and South Korea purchased processed cobalt from those companies, then sold them to battery manufacturers that claimed to supply Apple, Samsung, Microsoft, Sony, Daimler and Volkswagen.

The report also alleged that top electronics companies failed to take basic steps to ensure that their products were free of links to child labor.

"Millions of people enjoy the benefits of new technologies but rarely ask how they are made," said Amnesty International researcher Mark Dummett. "It is high time the big brands took some responsibility for the mining of the raw materials that make their lucrative products."

Apple, Microsoft, Samsung and Sony responded that they would not tolerate any supplier found to be exploiting child labor.

Apple and Sony said that they were examining the sources of their cobalt, while Samsung said that it could not definitively determine whether its products included Congolese cobalt due to supplier non-disclosure agreements.

Amnesty International said that none of the 16 multinationals contacted as part of its investigation could independently verify where the cobalt in their products came from, and that without proper safeguards, their zero-tolerance policies are "not worth the paper" they are written on.

"Mining the basic materials that power an electric car or a smartphone should be a source of prosperity for miners in DRC," Dummett said. "The reality is that it is a back-breaking life of misery for almost no money."