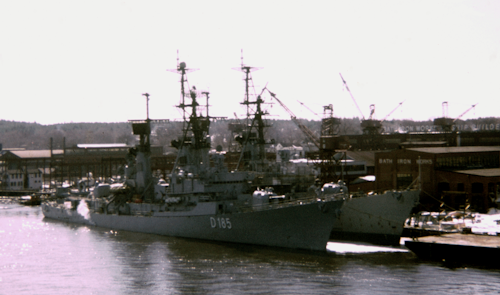 PORTLAND, Maine (AP) — Bath Iron Works and its largest union reached a tentative agreement on a four-year contract proposal that'll be presented to members this weekend in hopes of closing a deal months before the current contract expires, a union official said Tuesday evening.
Jay Wadleigh, president of Machinists Union Local S6, declined to provide details until he briefs members on Wednesday. A company spokesman had no immediate comment Tuesday evening.
"It was a tough negotiation. There are some tough things in there. But it's a competitive environment, and it's up to members to decide whether they can swallow it or not," Wadleigh told The Associated Press.
Local S6 members will vote Sunday at the Augusta Civic Center.
The current contract for the 3,500 production workers represented by Local S6 doesn't expire until May 22. But the company instigated the early discussions last month because it wanted to nail down a contract to boost the shipyard's efficiency to make a competitive bid in the new year on Coast Guard offshore cutters.
The shipyard's 6,000-member workforce was warned that there would be steep cuts — as many as 1,200 jobs — if the yard fails to land the contract, which calls for construction of 25 cutters over two decades.
To be competitive, Bath Iron Works President Fred Harris previously told shipbuilders he wanted to have subcontractors build berthing units, lockers and door hatches, all items now built in Bath. He also wanted to update task lists so workers could take on new jobs.
Workers have resisted the changes, saying they can make the items better and, in many cases, more cheaply. They also opposed changes that would take them out of their specialties, saying past efforts to have workers perform multiple tasks made the shipyard less efficient.
Things got so ugly that more than 1,000 workers rallied to show their anger in May. Bath Iron Works, a subsidiary of defense giant General Dynamics, responded by hiring a firm led by former U.S. Rep. Dick Gephardt to try to improve labor relations.
Both the union and the company have been told by top Navy officials that future contracts depend on the shipyard's ability to drive down costs.
At the Oct. 31 christening of the future USS Peralta, Harris was blunt in discussing the shipyard's need to reduce costs. "We have no other option," he said. "We must change."