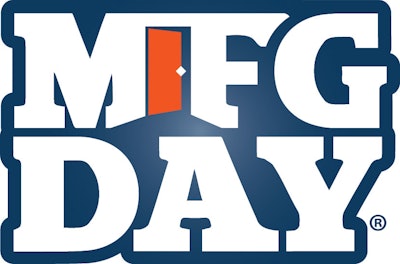 A survey of participants in Manufacturing Day events this year found overwhelmingly positive responses among students, teachers and manufacturers alike.

Organizers said that the poll, distributed by Deloitte to more than 2,500 event hosts, exceeded all expectations of scope and impact.

"The co-producers of Manufacturing Day could not be more pleased with the results of the 2015 celebration," said Fabricators & Manufacturers Association President Ed Youdell.

READ MORE: How do We Keep Students in STEM?

Among manufacturers that participated this year, 88 percent indicated that they are now more likely to engage with nearby high schools and colleges and 95 percent said that they would favor hosting similar events in the future.

In addition, 90 percent of educators said that the events made it more likely that they would encourage manufacturing careers for their students, while 81 percent of students said that they were more convinced that manufacturing careers "are both interesting and rewarding."

Manufacturing Day — initiated in 2012 as part of efforts to address projected skilled labor shortages — spawned more than 2,600 individual events in all 50 states, Canada and Puerto Rico this year.

More than 400,000 people participated in 2015, including 225,000 students and 55,000 parents and teachers at hosted events and tens of thousands more at 12 virtual Manufacturing Day events.

Both totals would exceed records set in 2014.

"It is powerful to see that our collective efforts are making a difference in educating the public about manufacturing and its rewarding careers and how we are helping manufacturers throughout the U.S. connect with the next generation workforce" said Manufacturing Extension Partnership Director Carroll Thomas.